ANNUAL HOLIDAY BLOWOUT
The Asheville Track Club's annual Christmas Party is scheduled for Saturday, Dec. 17 at the YMI Cultural Center in downtown Asheville, which is located on South Market Street one block south of City/County Plaza. The party will run from 6-10 p.m. and will include the main course, drinks and a live band. Party organizers ask that everyone bring a side dish to share.
Attention race directors
Any race director who is interested in finish line services and equipment, please click here for more information.


Looking for a group run or an upcoming race? The ATC calendar has all of your answers. Click here


Looking for a training partner, answers to running questions or for a recommended brand of shoes? Go to the ATC message board and interact with your fellow runners. Click here



For questions or updates to the
Asheville Track Club Web site, please e-mail
Scott Bowers at professionalslug@charter.net.
Copyright ©2004 Asheville Track Club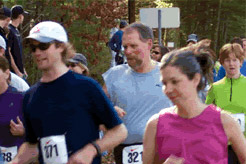 The Mission of the Asheville Track Club is to promote and support the running communities of Western North Carolina by providing information, education, training, social and sporting events for competitive and non-competitive runners and walkers of all ages, races, genders and abilities.
The Asheville Track Club is a proud member of these organizations:
The Asheville Track Club thanks our sponsors and encourages all visitors to this Web site to support them: