Greetings to all!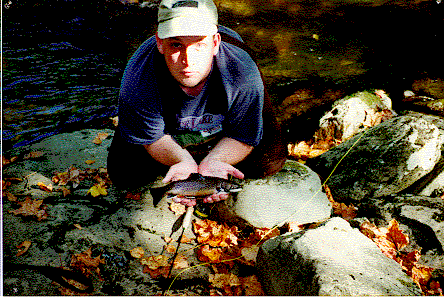 Picture taken November 1996. 13"
Brook trout (char).
A stream worthy of not mentioning.


Should you try to reach me outside of the office,
your best bet is to look to one of the thousands of streams flowing in the
Great Smoky Mountains National Park.
I am Phillip Gibson, Natural Resource Program Manager for Western North Carolina Tomorrow. I also serve as Community Development Specialist for the Mountain Resource Centerís Local Government Training Program (LGTP). Unofficially, I am an environmental planner with a background in environmental policy, natural resource economics, and geography.
Prior to my present position, I had the honor of being an environmental planner and assistant to Hubert Hinote, executive director of the
SERAMBO is not really an organization. After the workshop in February 3-4, 1997, many of the participants asked that I continue the efforts initiated at the workshop. The name is taken from Gary Simpson and Terry Yates' effort with New Mexico's RAMBO. I needed to create a name for the webpage and thus SERAMBO was formed.
This webpage and other efforts are done in my free time. I plan to provide assistance (by posting documents on this website, workshops, etc.) in those areas you deem appropriate. Should you have a paper or other information to share, please feel free to send it to me via email and I will post it. You may also share information via the newsgroup.

I would like to publicly thank all of those who assisted me with the workshop -- either with logistics or by presenting. I will soon have the proceedings complete from the workshop and posted here. Dr. Gordon Cragg, Dr. Paul Epstein, and Dr. Gary Simpson and Dr. Terry Yates have continued to provide me with input and insight. For that, I am deeply grateful.
At a later date, I plan to post a listing of emerging infectious diseases, vectors of disease spread and other topics related to how environmental change is impacting human health. I am reliant, however, upon you to tell me your information, organization, and contact needs. So, let me know your ideas!
---