Fall 1992, Volume 1, Number 2
Putting TV in its place: kids books show the way
---
The Berenstain Bears and Too Much TV by Stan & Jan Berenstain. New York: Random House, 1984.
When Brother and Sister Bear rush home from school, only to sit down in front of the TV for the rest of the afternoon, Mama Bear decides theres too much TV.With the reluctant support of Papa Bear (whos hooked on TV sports), Mama Bear declares a one-wee k ban on TV. During their no TV week, the bear cubs rediscover a variety of hands-on play activities, indoors and out, and the whole family goes on a nature walk, star gazes at night, and rediscovers the pleasures of good conversation.Mama, what is it yo u dont like about TV? asks Brother Bear. I dont have anything against TV, says Mama Bear. I like it. What Im against is the TV habit—sitting in front of it day after day like old stumps waiting for dry rot to set in.The Berenstain Bears series is extre mely popular among parents and children. The illustrations are sharp and colorful while the text is delightfully conversational. "Too Much TV" is one of the best, true-to-life childrens books on televisions Jekyll-and-Hyde role in American life.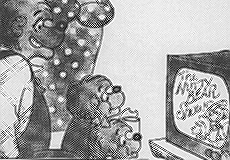 The Bionic Bunny Show by Marc Brown and Laurence Krasny Brown. Boston: Little, Brown and Company, 1984.
The Bionic Bunny Show is a behind-the-scenes look at how a super-hero TV show is made. A mild-mannered and nearsighted rabbit named Wilbur plays the role of Bionic Bunny. Wilbur is transformed into a super-hero through the use of make-up and a costum e complete with built-in muscles.By showing how characters can be made to look bigger-than-life through techniques such as costume and low camera angles, The Bionic Bunny Show is an excellent story for helping young children grasp the difference between fantasy and reality.The book even shows how a three-shot editing trick creates the illusion of the Bionic Bunny leaping tall buildings with a single bound. The Bionic Bunny Show is a must for the media-literate childs library. Though it deals with the m echanics of how TVs pseudo-reality is constructed, the book never sacrifices humor and entertainment for instruction.
Clifford Goes to Hollywood by Norman Bridwell. New York: Scholastic Inc., 1980.
Clifford, the popular big red dog, is discovered by a Hollywood talent scout. After passing a screen test which reveals his acting prowess, Clifford makes a hit movie and becomes an overnight Hollywood sensation.Clifford enjoys all the perquisites of Hollywood stardom: a dog house modeled after the Taj Mahal, a swimming pool shaped like a bone, and the adulation of hundreds of fans.But pretty soon the rich life and attention wear thin: One day he looked over his wall and saw a girl playing with her dog. He missed me, says Cliffords friend and owner, the little red-headed girl. So Clifford slips away in the middle of the night and returns home. A book for younger children, Clifford Goes to Hollywood compares the life-sustaining values of home an d family to the siren song of fame and celebrity.
Freds TV by Clive Dobson. Ontario: Firefly Books, 1989.
When Freds TV addiction gets out of hand, his father tosses the set out in the backyard. Fred goes to great lengths to satisfy his need for TV. He even hooks up the exiled TV with an extension cord, but it rains and the set short-circuits.When a repa irman comes and removes the tube, the empty cabinet becomes a make-shift bird feeder, and Fred gradually develops a strong fascination with birds and wildlife.Freds TV is an unusual story, combining humor with serious messages about the natural world and the unnatural behavior of TV-induced passivity. For young and older children. A classic.
Tom the TV Cat by Joan Heilbroner. New York: Random House, 1984.
Tom is a TV-watching cat who is fascinated with the exciting and intense experiences of his TV heroes: a professional wrestler, a flying super-hero, and a nightclub crooner on whom fans lavish flowers.Not satisfied with vicarious TV experience, Tom tr ies to imitate these characters. His singing gets flowers thrown at him (pot and all!); hes roughed up by a larger cat he tries to bully; and he lands in a garbage can when he attempts to fly off a roof. Tom the TV Cat is a good book for helping childre n distinguish between fantasy and reality.The simple language is written for early readers in grades 1-3, but the book also works well with younger children. Its one of my 5-year old sons favorites.
---
Return to Contents Menu