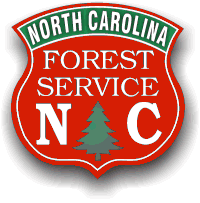 The North Carolina
Forest Service
FORESTRY IN NORTH CAROLINA

Forests are many things to many people. They provide clean water and air, timber for wood products, wildlife habitats, stable soil, and recreational opportunities. they also beautify any given area.

North Carolina's forests are among the state's most important natural resources. They are also an important economic resource -- over 60% of North Carolina's land is commercial forest land, capable of producing marketable timber for its 300,000 landowners.

Today, more and more land is being taken out of forest production. Urban sprawl has claimed forested areas that never will be replaced. Some lands have been designated as wilderness areas or parks. They will continue to provide our state with many environmental and scenic benefits but they will not produce wood products, Of even greater concern is the increasing amount of underproductive forest land that is cut over for quick cash then left idle. Each year, thousands of acres are lost this way.

If we are to continue to enjoy all the benefits of out forests, we must protect our present forest resources, estimate future need and intensify our efforts to increase forest production. It is to everyone's advantage that the forests be well managed for environmental, aesthetic or economic reasons rather that left unproductive and inactive.

The North Carolina Division of Forest Resources (NCDFR) exists to help landowners ensure North Carolina's forests stay healthy, productive and beautiful for generations to come.

Harold Phillips, Ranger
NC Forest Service
Route 1, Box 100
Robbinsville, NC 28771
Office: 828-479-6341
Fax: 828-479-8695
E-mail: haroldp@graham.main.nc.us


This internet page outlines some of the things we can do for you.
FINANCIAL ASSISTANCE

Financial assistance, through state or federal cost share programs, is available to landowners interested in starting a new forest or improving an existing one. Specific requirements may vary for each program. Details are available at NCDFR Offices.
FOREST MANAGEMENT

All forests, whether planted or growing naturally, should be managed with the advise of a professional forester. The NCDFR provides this service to landowners without charge. Whether landowners want to manage their forests as a source of income, for wildlife, for recreation or any combination thereof, our foresters can provide the expertise to help.

Upon request, NCDFR foresters and technicians will accompany landowners on an examination of their woodlands. Together, the landowner and NCDFR staff will determine how to meet the landowner's objectives and a forest management plan will be developed at no cost. Good stewardship of the land will guarantee its productive value for future generations. Out management plans are drawn to achieve the landowner's economic objectives while adequately protecting soil, water, wildlife and vegetation. NCDFR also provides help in setting up the management plan and advice on programs that offer financial incentives.

The North Carolina landowner can also reap the benefits of a NCDFR forester's knowledge and experience when it is time to harvest or thin out a tract of timber. We can help you find a private consulting forester who can inventory the trees on your property and/or administer the sale of your timber. NCDFR can also provide advice on marketing options.
FOREST FIRE PROTECTION

Throughout North Carolina, the Division works with all counties to prevent, detect and suppress forest and wildland fires. In addition to maintaining a network of fire towers and aerial patrols to detect fires as rapidly as they occur, NCDFR tries to prevent the occurrence of forest fires in several ways. We constantly monitor weather conditions to determine when the risk of fire will be high and we keep citizens informed of fire hazards. When the accumulation of vegetation that provides fuels for forest fires becomes too great, we assist in reducing that accumulation through prescribed burning.

When fires do occur, NCDFR personnel and equipment respond rapidly to reduce fire damage.

Out on-going information and education programs help the public learn how to properly protect lives and property from the devastating effects of forest fires.

In addition to forest fires, the NCDFR also provides emergency response to other kinds of natural disasters, including hurricanes, as well as ice and snow storms.
FEE SERVICES

Some of our services to landowners are provided at cost -- including seedling sales.

NCDFR nurseries grow many species of commercial forest trees native to North Carolina. Some of these seedlings are products of trees that have been selected for faster growth and better quality. Landowners may purchase seedlings at a nominal cost. We provide instructions for planting and care of these young trees. Seedling order forms are available from county rangers, county agricultural offices or the state office in Raleigh.

NCDFR also helps landowners find suitable contractors to provide services such as site preparation, prescribed burning, fire-line plowing, timber stand improvements and timber marketing. NCDFR may contract to do these services in some areas where private contractors are not available.
URBAN AND COMMUNITY FORESTRY

NCDFR's Urban and Community Forestry program provides assistance to cities, towns and counties seeking to improve the quality of life for their citizens -- environmentally, economically and aesthetically.

Across the state, people are recognizing the value of using trees and shrubs to create urban forests in their communities. Trees moderate temperature extremes, they reduce wind speed and erosion, filter pollutants from air, water and soil, and muffle noise. Trees act as screens between homes or around unsightly areas, soften the harsh concrete, glass and steel cityscape, and increase property values.

The Urban and Community Forestry program offers technical assistance to communities. This program can help with planning, species selection and planting techniques. It can help with insect and disease identification and control, tree maintenance, and proper use of urban forest wood.

To qualify, towns must be incorporated and have a population of fewer than 50,000. They must develop a tree ordinance that outlines responsibility for public tree planting, removal and maintenance on public property. Also, towns must appoint a tree committee of interested citizens with legal responsibility and authority to develop a tree program. All urban forestry assistance is carried out through this group.
INSECT AND DISEASE PROTECTION

Insects and diseases claim more timber each year than any other forest menace. Some of this loss occurs as a natural part of a forest's life cycle. However, the effects of insect and disease outbreaks can be reduced by early detection and protection measures.

The NCDFR maintains statewide pest surveillance and takes corrective steps when significant forest resources are threatened. Landowners may contact the Division's local offices if they suspect pests are plaguing their woodlands. When epidemics occur, the NCDFR helps landowners dispose of damaged timber and to install control measures to prevent disease or insect spread. Our foresters can offer technical advice about immediate treatments or management practices that reduce certain pest damages.
NCDFR SERVICES:

Forest Management:
Management Plans
Timber Exams
Financial Incentives
Nursery Sales
Stewardship Program
Marketing Advice
Urban Forestry Assistance


Forest Protection:
Fire Prevention/Control
Insect & Disease Surveillance,
Protection & Tech Advice
Information and Education

Educational State Forests:
Six forest environment centers located across North Carolina
LET US HELP YOU

If you'd like to know more about these and other North Carolina Division of Forest Resources programs, contact one of our local rangers or foresters. They live in your area and can give you expert advice on maintaining your forest land.

The Division maintains field offices in all North Carolina counties, grouped into 13 larger districts listed below. You can find our offices in the white pages of the telephone book under "North Carolina, State of..." or under your county government listing.

District 1: Asheville
District 2: Lenoir
District 3: Rockingham
District 4: New Bern
District 5: Rocky Mount
District 6: Fayetteville
District 7: Elizabeth City
District 8: Whiteville
District 9: Sylva
District 10: Lexington
District 11: Hillsborough
District 12: Mt. Holly
District 13: Fairfield
828-667-5211
828-757-5611
910-997-9220
919-514-4764
252-442-1626
910-484-0174
252-331-4781
910-642-5093
828-586-4007
336-956-2111
919-732-8105
704-827-7576
252-926-3041

Central Office (Raleigh) 919-733-2162
For more information about educational opportunities provided by the Division of Forest Resources in your county, contact your local county forest ranger or write to:
NC Division of Forest Resources, DENR
1616 Mail Service Center
Raleigh, NC 27699-1616,
Telephone 919-857-4801 or email www.dfr.nc.gov
NCDFR's Graham County Ranger is:
Harold Phillips, Ranger
NC Forest Service
Route 1, Box 100
Robbinsville, NC 28771
Office: 828-479-6341
Fax: 828-479-8695
E-mail: haroldp@graham.main.nc.us