Welcome to JACKSON COUNTY
Find adventure in southwestern North Carolina's majestic mountains

Graphic by Scott Martin
Visit small towns, the Blue Ridge Parkway, fast moving streams, wildlife, natural beauty, heritage, and friendly people.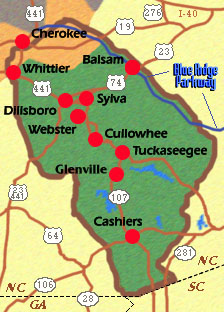 Find out more about Jackson County. Click on a red
town circle on the Jackson County map or on a directory below.
ONLINE HOME BUSINESS

In today's economy, many people are turning to alternative ways to earning money. An online home business can turn a hobby into earning more income.

Even without your own products, anyone can have an Affiliate Business marketing other people's products for a commission.

See the possibilities at Onine Home Business
Balsam - Cashiers - Cherokee - Cullowhee - Dillsboro - Glenville - Sylva - Tuckasegee - Webster - Whittier
Mountain House for Sale - Sylva, NC
---
Send your comments and page corrections to the Jackson County Webmaster
---
Jackson County appreciates being included in the Mountain Area Information Network [MAIN] for western North Carolina.
Neighboring counties in Western North Carolina on the map below.