OBSERVATION: Fire
---
80 Acres of the popular hiking area Graveyard Fields in Pisgah National Forest burned on Saturday November 13, 1999. Boy Scouts along with other hikers were evacuated by Forest Service people.

LOCATION
On the Blue Ridge Parkway, Graveyard Fields (not named because of actual tombstones, but the way tree-stumps in the area looked like a field of grave markers), near mile marker 420. The Graveyard Fields overlook gives a panorama of much of the area that the fire consumed.
DESCRIPTION
Consumed isn't exactly the word for it. Fire is a natural part of forest life, and probably every year in small sections and maybe even every 8-12 years for a big blaze. The difference here is not the 10-12 foot flames or the fact that it was probably caused by campers, but there were already problems with the Graveyard Fields area because of overuse by campers had caused some trails to be closed due to erosion problems. I would imagine the fire escalates the erosion that has already taken place, especially now that winter has set in and new growth won't take place until spring.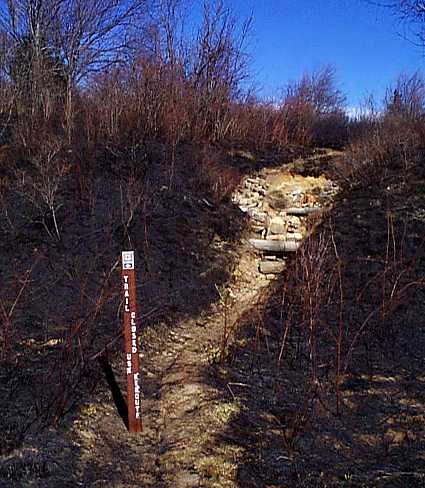 Close inspection reveals that very little overt damage was done. One strange twist in the whole thing is that because the area is overused, it is riddled with trails that are sometimes several feet wide (more like creek beds actually), they provided natural fire-breaks and help contain the blaze. The fire never made it across the Yellowstone Prong creek either. Most of the area was grassy and brambly (my official word), and i saw no evidence that the fire did any damage to trees older than several years (except already dead ones). Also, it seems, the fire had a tougher time trying to get thru rhododendron masses (perhaps it's leaf-litter doesn't burn well and its adapted to natural fires - or else fire dislikes passing thru rhodo-thickets as much as i do). Another natural fire-break and areas where the blaze didn't do any visible damage is the peaty-bog creeks that wander thru the bottom-lands of this area, as seen below.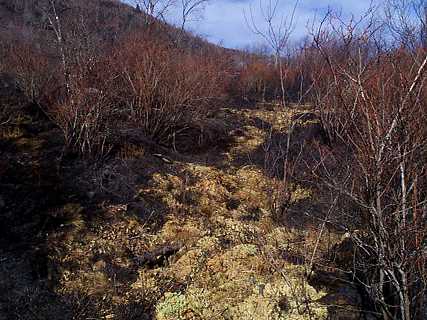 I did notice that many mouse-trails and vole-highways were revealed, and this will i'm sure be a boon to owls and other predators while these rodents try to find unburned seed and other edibles.
REFERENCE
The Asheville Citizen-Times had an article on the blaze on 11/14/99. Here is the link to that article, but I'm not sure how long the Citizen-Times maintains these.