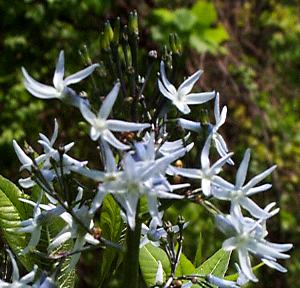 The dusty-blue flowers are about 1/2 across.

FAMILY:
Dogbane family (Apocynaceae)
DESCRIPTION:
A leafy perennial, with little-branched erect stems filled with milky sap. The blue-white flowers are about 1/2 across and followed by erect cylindrical pods. The leaves are alternate and ovate and highly variable in width.
FLOWERS:
April
HABITAT:
Generally rich deciduous woodland areas of bottomlands and wooded slopes of the piedmont and mountain regions.