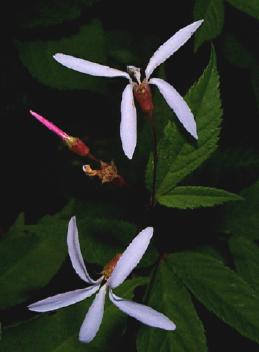 I'm sure i have some anecdotal information about this shot, but I'm at a loss at the moment.

FAMILY:
Rose Family (Rosaceae)
DESCRIPTION:
White to pinkish flowers that seem casual, irregular, with 5 narrow oblique petals. Leaves are 3-parted and 2-4 inches long and toothed. The plant grows 2-4 feet tall.
FLOWERS:
May to September
HABITAT:
Seems to prefer rich moist woods and mostly in the mountains and piedmont regions.
OTHER INFORMATION:
The powdered dried root was used by Indians as a laxative and emetic, thus the name Indian Physic Root. It is related to American Ipecac, which gives some creedence to this use.
A delicate flower that is hard to spot, staying out of the way mostly. I don't know who Bowman was.