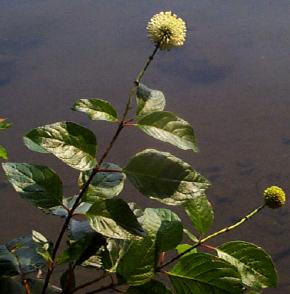 This plant almost makes you get in the water to take its picture.

FAMILY:
Bedstraw Family (Rubiaceae)
DESCRIPTION:
Globular flowers about an inch in diameter are on the end of this mostly aquatic plant. 3 - 8' in size, it has ovate, untoothed leaves that generally form a point.
FLOWERS:
June - August
HABITAT:
Water is the key here. Grows along ponds, streams, lakes and rivers, and in swamps. Prefers low, sunny areas. Will even grow well in sunny meadows that have plenty of water lurking under the surface.