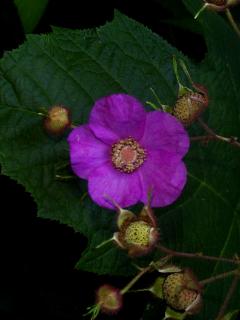 This member of the rose family stands out along roadsides.

FAMILY:
Rose Family (Rosaceae)
DESCRIPTION:
A thornless, erect shrub with large maple-like leaves. It has rose-lavender flowers in loose clusters. The flower, 1 - 2" wide, seems somewhat crumpled with 5 rose-like petals and multiple stamens and pistils.
FLOWERS:
June to August
HABITAT:
Rocky woods, shady road banks, thickets, and along streams.