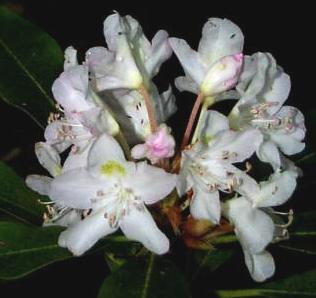 These pretty plants dot the edges of streams in the mountains.

DESCRIPTION:
A large evergreen shrub or sometimes small tree with leathery evergreen leaves 4 - 9" long with pointed tips. Pinkish-white flowers grow on glandular and sticky stalks, and are 1 1/2 - 2" wide with 5 blunt corola lobes.
FLOWERS:
June to July
HABITAT:
Damp woods, along streams and forested wetlands.