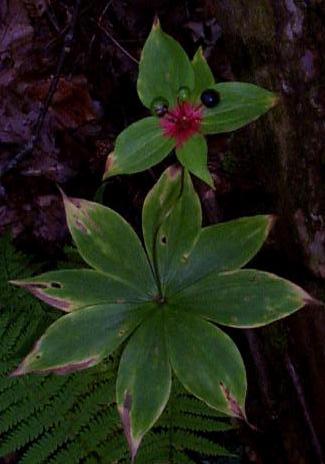 I didn't get a picture of the flower this season, perhaps next.

DESCRIPTION:
Yellowish-green flowers nodding from the center of a whorl of 3 leaves (1 - 3") atop a thin unbranched stem. Below that is a whorl of 6 - 10 leaves that are larger (3 - 5") than the top leaves. The berries are bluish to dark purple when ripe, and stand out on the top whorl by a reddening of the leaf axils.
FLOWERS:
April to June (Berries Late July to August)
HABITAT:
Deciduous moist woodlands. Is infrequent.
OTHER INFORMATION:
This is a very distinctive-looking plant, and once you see it, either in bloom or fruit, you probably will be able to spot it easily.