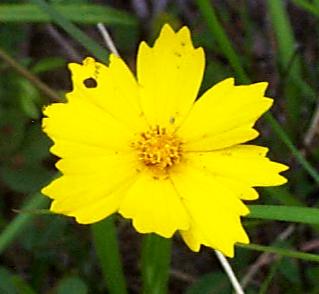 Escaped from cultivation Coreopsis has done just ok.

DESCRIPTION:
A singe yellow daisy-like flower blooming on a long stalk. Also has numerous yellow disk flowers. The flower is 2 - 3" wide with 8 ray flowers which are deeply notched at their tips. The leaves are elliptic to linear with few or no upper leaves. Grows 1 -2' tall.
FLOWERS:
July to September
HABITAT:
Waste and disturbed areas with rocky or sandy soil. Open woods in the mountains.