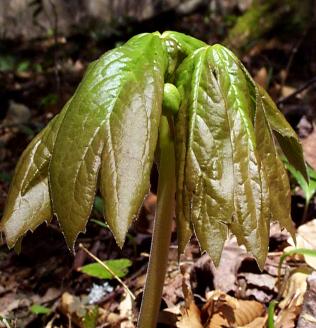 This season i didn't get a picture of the flower which is ready to bloom here. Next season definitely.

DESCRIPTION:
A single waxy white nodding flower erupts from the 'v' formed by the twin leaves of this early spring plant. The pair of roughly circular leaves have 3 - 7 sharp lobes and are about 6 - 8 inches wide when fully extended.
FLOWERS:
March to April (Fruit May to June)
HABITAT:
Prefers acidy soil. Grows in woodland borders, in high tundra-like areas, upland bogs and barrens, and thickets.