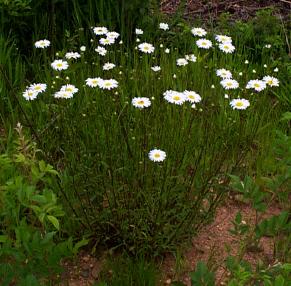 Neither do they toil nor spin.

DESCRIPTION:
The plant everyone knows as the Daisy of the fields, with solitary white and yellow flower head on slender, erect stems. 1 - 2" across, the ray flowers are white, all of which are female and the disk flowers are yellow with both male and female. The disk is slightly sunken.
FLOWERS:
April to July
HABITAT:
Old fields, waste places, meadow and roadsides.