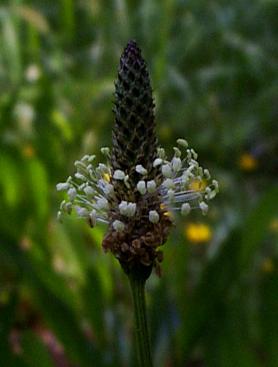 I'm sure i have some anecdotal information about this shot, but I'm at a loss at the moment.

DESCRIPTION:
A greenish-white spike rises from a set of low-lying, heavily ribbed basal group of leaves. The flowers are amassed on the spike which is anywhere from 6 - 18" tall. The flowers themselves are on little stems are less than 1/10" long at the top of this stalk.
FLOWERS:
June to October
HABITAT:
Lawns (where they are considered tenacious weeds), fields, roadsides and waste places.