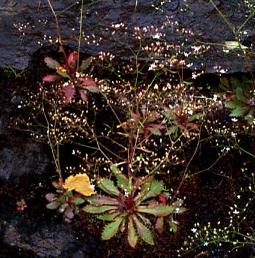 Find a moist crevice along the parkway and you'll usually find Saxifrage.

DESCRIPTION:
A slightly hairy floral stalk with many branched clusters of small white flowers (1/4" wide) with petals of slightly different sizes. The leaves are 2 - 4" long and are broadly toothed. Plant grows 6 - 20" tall.
FLOWERS:
June to August
HABITAT:
Moist rocky slopes and seepage areas of the mountains.