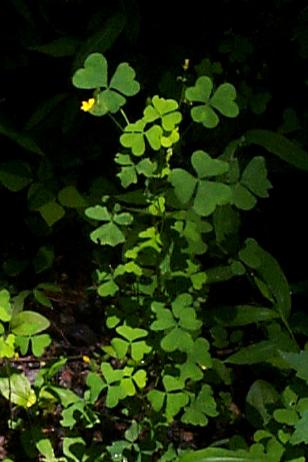 I'm sure i have some anecdotal information about this shot, but I'm at a loss at the moment.

DESCRIPTION:
A small (6 - 15") plant with clover-like leaves branching from a main stem. Usually one to several small yellow flowers only 1/2" across with 5 petals. The leaves are more heart-shaped than clover and fold up along the main vein when the sun goes down and open back up in the morning.
FLOWERS:
May to July
HABITAT:
Dry soil, roadsides, fields and waste places.
OTHER INFORMATION:
Probably the 2nd plant that children learn, because the sourgrass is very tasty. However, because of a large amount of oxalic acid, it should not be consumed in any quantity. Taste additions to salads are perfect.
| | |
| --- | --- |
| 5 petals and 10 stamens with the pistil erect. An unfurled flower is right behind this one. | |