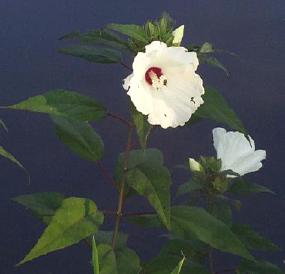 Very showy and noticable - both to us and Japanese Beetles and other insects.
FAMILY:
Mallow family (Malvaceae)
DESCRIPTION:
A tall, coarse plant with large creamy-white flowers (4 - 6") with red or purple centers and numerous anthers united into a column around the style, upturning at the end. The leaves are palmately veined, sometimes lobed. Grows as a shrub 3 - 8'.
FLOWERS:
June to September
HABITAT:
Mostly a piedmont species that grows along the edges of inland freshwater marshes and swamp forests.