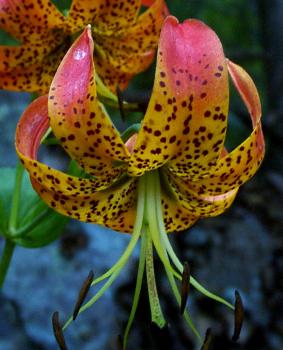 Presumably this looked like a hat that early Turks wore.

FAMILY:
Lily Family (Liliaceae)
DESCRIPTION:
An extremely showy multicolored flower, or group of flowers nodding on a tall flowering stem. The flower is spotted brown amid the yellow-orange petals, turning to red at the tips where it is strongly recurved. Towards the center of the flower a green streak on each flower segment makes a star pattern. The leaves are 2 - 6" long and lanceolate. Grows from 4 - 7' tall.
FLOWERS:
June to August
HABITAT:
Moist meadows, rich woods, and marshy areas.