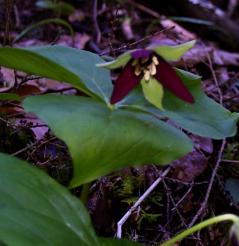 If you wait for them to open much more, you'll probably be dissapointed.
DESCRIPTION:
Nodding on a short stalk above the 3-whorled leaves is a single maroon flower that has a pleasant odor. The leaves are 2 - 7" long, ovate and attaching directly to the stem. They are net-veined unlike most trilliums which are parallel-veined. Grows 8 - 20"
FLOWERS:
April to June
HABITAT:
Rich deciduous woods.