This is the Web version of the current issue of the Mountain Mineral Monthly, S.A.M.S. newsletter. The newsletter may also be viewed or downloaded as a pdf. The version sent to members, either by post or e-mail includes complete field trip details. For selected articles which have been published in past issues, see Geolore.
Obicular gabbro diorite...obicular gabbro diorite...bet nobody thought I'D find any.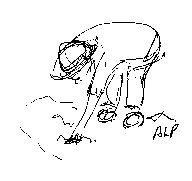 Newsletter of the Southern Appalachian Mineral Society, Inc.
MOUNTAIN MINERAL MONTHLY
Volume 87 June 2018 Number 6
S.A.M.S. Monthly Meeting
Monday, June 4, 2018 7:00 PM
Tuton Hall Community Center
Deerfield Retirement Community
Asheville, North Carolina
JUNE PROGRAM
Way Out West
Keith Thompson and Tim Barton will talk about their trips in the West.

PRESIDENT'S MESSAGE
It is with great regret that I must tender my resignation as President effectively immediately. It has been my great honor to work with such great people over the past almost three years.
I must take this step for several compelling reasons. As you will note I have been unable to attend the last two meetings, and would have to miss a number more later this year. The main reason is that my 90 year old mother has an aggressive form of Breast Cancer for which no further treatment will likely make a difference. She is in a nursing home in Northeast Indiana, and I must be there frequently and unpredictably be there.
Second, my increasing back and balance problems will make it increasingly unlikely I can lead or go on field trips.
Third, at some point this summer I will have to be back in Miami for an unknown period while my wife undergoes another heart operation.
Finally, I am confident VP Wayne will step in capably, and I will still be able to help with planning meetings and future field trips even if I can't be there.
Ken Casebeer

June Birthdays
Alice Reynolds June 2
Charles J. Kamper, Jr June 2
Lisa Farley June 6
Caden Bennet-Werley June 9
Dr. Hal Mahan June 11
Tony Bradley June 13
Robert Davis June 16
Joe Enderle June 23
Bob Seymour June 23

SOUTHERN APPALACHIAN
MINERAL SOCIETY
Minutes for May 7, 2018
GENERAL
The Southern Appalachian Mineral Society
held its May meeting in the Community
Room of Tuton Hall at Deerfield on Monday,
May 7, 2018. The meeting was called to
order at 7:13 PM by Vice President Wayne Steinmetz.
The motion was made to approve the minutes of the April 2, 2018 meeting as published in the newsletter. Motion was seconded and approved unanimously. Treasurer's report was sent in by Rhonda Ashley since she was out of town. There has been no change since the April meeting.
14 members were in attendance and there were 4 guests.
FIELD TRIPS
There will be a trip to Ray Mine on Sat. May 19. To carpool, meet at the WestGate Shopping Center at
8:30 am.
It was announced that President Ken Casebeer has
submitted his resignation, for personal reasons.
Business meeting ended at 7:18 pm.
PROGRAM
Our speaker was Zach Bush.
He spoke about how he got into mineral collecting and dealing, and the opportunities he had available.
He is the owner of Matrix Minerals, 75 Buffalo St., , Johnson City, TN.
The program ended at 8:00 pm.
Winners of the Door Prize raffle were:
Tim Barton: Florida Fossil Coral
Jessica Fink: Rhodolite Garnets
Solomon Werley: Graves Mt. Lazulite
As a reminder, the winners are requested to
write and submit to the newsletter a brief
article about their specimens.
Displays provided by:
Wayne Steinmetz - Amazonite
Helen Johnson – Amazonite, Graves Mountain
Specimens
Refreshments were provided by the staff at Deerfield. Members socialized and viewed specimens brought in by members.
Respectfully submitted.
Kathleen Munroe, Secretary

Rhodolite Garnet in Matrix Specimens from the raffle
Jessica Fink
Surrounded by grey quartz and black mica are several light pinkish purple rhodolite garnets. The garnets are about a quarter inch in length and their crystal form is visible against the matrix. Rhodolite garnets fall between the almandine and pyrope garnet species. Garnets are a common silicate mineral that occurs in a variety of colors and chemical combinations, within a general theme. Almandine garnets include iron, aluminum, and silicate, while pyrope garnets include magnesium, aluminum, and silicate. The specimens that I was lucky to win were found in Macon county, which is where the first rhodolite garnets were discovered in 1895.
Sources:
https://minerals.usgs.gov/minerals/pubs/commodity/gemstones/sp14-95/garnet.html
https://www.gemsociety.org/article/what-is-a-rhodolite-gem/
Rock, Gem, and Mineral Collecting Sites in Western North Carolina by Richard James Jacquot, Jr.

Dixie Mineral Council Field Trip
The Southeast Federation of Mineralogical Societies, Inc.
An Official Field Trip of the Middle Tennessee Rockhounds (Nashville, TN)
An Official Field Trip of the Southern Appalachian Mineral Society
Saturday, June 23, 2018
10AM 'til 2 PM EDT
Coon Creek Science Center
McNairy County, Tennessee
Limited to 35 participants
Pre-Registration Required
FEE $15
TRIP: Within the grounds of Coon Creek Science Center, located in rural McNairy County, Tennessee, lies one of the most important fossil sites in North America. Acquired by the Memphis Museum System in 1988, this property contains a treasure lode of superbly preserved Upper Cretaceous marine shells and vertebrate remains left there 70 million years ago when the water of the Gulf of Mexico receded. Coon Creek fossils are mostly marine invertebrates (clams, snails, oysters, shrimp etc.) that are about 75 million years old. They are found in an unconsolidated clay/sand matrix. Coon Creek fossils are very unique because of the state of their preservation. They are original material – the shells have not turned to stone. They are also very abundant with a huge variety of species. You will be able to collect in a "quarry" area and surface collect from Coon Creek's stream bed (as guided by the museum staff). You will be "carving" fossils out of the Coon Creek formation by looking through chunks of the formation that have been loosened from the quarry. Participants will use a curved linoleum knife for collecting. Museum instructors will demonstrate how to collect your fossils and how to clean them. Everyone will find fossils! Some of the fossils are very fragile. You keep what you find with a few exceptions. If you find a specimen that would be beneficial for the Museum's collection or research, the Museum reserves the right to keep that fossil. See also: http://www.memphismuseums.org/coon_creek-overview
Program – Field Paleontology (4 Hours): Introduction – 30 minutes; Collecting Session (quarry and surface) – 2 Hour; Lunch – 30 minutes; Clean and Identify Fossils - 45 minutes
COLLECTING: Upper Cretaceous marine fossils.
BRING: Lunch (there is no food nearby & no vending machines at the center), water, boots or shoes that can get wet/dirty, poncho, towel, change of clothes & shoes (for return home), bucket, small digging tool (optional; linoleum knives will be furnished), roll of aluminum foil (to protect your finds), and bug spray.
FEE: $15 per participant
REGISTRATION: Pre-Registration Procedure: After you supply required information by email to Middle Tennessee Rockhounds (MTR), MTR will assign you a registration number by return email – bring registration number the day of the fieldtrip. [Instructions for mailing the $15 per participant fee will be included with registration number. Registration is not official until fee is received.] Once registration reaches 35, registration is closed. To register, email Fieldtrip@rockhound.org with: Name(s; Last, First), Address/ City/State, Phone (include cell for day of trip), club, age of children (must be 10 to 17 years old and accompanied by a parent or a guardian). Registration requests are limited to family members, couples, and significant others; non-related individuals must email separate registration requests.
CHILDREN: Yes (see stipulations in registration above; no children under 10 per Coon Creek Science Center)
PETS: No.
FACILITIES: Bathrooms and showers are available. There are no snack or drink machines. There are no restaurants or stores nearby.
RAIN OR SHINE: This fieldtrip is rain or shine. The Science Center will cancel only if weather conditions are threatening.
LODGING & CAMPING: Rooms are available in nearby Henderson and Savannah, Tennessee. Campsites are available at Chickasaw State Park (http://tnstateparks.com/parks/about/chickasaw) and Mousetail Landing State Park (http://tnstateparks.com/parks/about/mousetail-landing).
CONTACTS:
Mike Mangrum, 615-587-1733; TennRockGuy@gmail.com
Randy Gentry, 615-566-8482; RGentry@biscanconstruction.com (no calls after 10pm CST; leave message if no answer);
To register for field trip, email Fieldtrip@rockhound.org.

UPCOMING SHOWS
June 2, 2018, Colfax, NC: Greensboro Gem & Mineral Club of NC, Piedmont Triad Farmers Market; 2914 Sandy Ridge Rd; Sat. 9-5; Free Admission; Numerous vendors of gems and minerals, hand crafted jewelry and items of interest to rockhounds. Demonstrations and geode cutting available. Free small geode to first 100 children under 12. Hourly door prizes and Grand Prize offered. Free parking and food vendors available.; contact Gary Parker, 6601 Lismore Dr, Browns Summit, NC 27214, (336)-402-5252; e-mail: redrutile@bellsouth.com; Web site: www.ggmc-rockhounds.com
June 8-10, 2018, Cartersville, GA: Damian w/ Bellpoint Promotions, Clarence Brown Conference Center; 5450 State Route 20 ; Fri. 10-6, Sat. 10-6, Sun. 10-5; Admission $5, Children under 16 free; Please join us for a great event featuring amazing gem, mineral, jewelry, fossil, bead and metaphysical dealers selling their spectacular finds from all over the globe ; contact Damian Belgali, (770)-386-1608; e-mail: mbellpoint@gmail.com; Web site: www.bellpointpromotions.com
July 28 to August 5, 2018, Spruce Pine NC: The 34th Annual Grassy Creek Mineral and Gem Show put on by the Parkway Fire and Rescue to raise money for new equipment. Over 60 US and International dealers with almost any kind of jewelry, gemstone and mineral specimens, fossil, lapidary equipment and more you might want. Each booth is 20 foot by 40 foot so there are LOTS of items for sale. Parking and admission are free. Food is available. Hours: 10 to 6 daily with many vendors open earlier and later because they are staying with their booth. Address: 136 Majestic View, Spruce Pine, NC 28777. This location is on the hill above the previous location.

Newsletter Deadline
The deadline for the July 2018 issue of the Mountain Mineral Monthly is:
June 13, 2018
There is still time to sign up for the June 10-16 Workshops. Check them out here:
2018 SFMS Workshops
Workshop I – William Holland Classes – June 10-16, 2018
Gail Delucca - Beading
Dave Bergquist - Cabs 1
Tom & Kay Benham - Chasing
Sandi Bergquist - Jr wire/Chainmaille
Debra Mauser - Immersion Enamel/CC
Linda Searcy - Faceting
Bill Boggs - Intarsia
Chuck Bruce - Inlay
Patti Appleby - Silver I
Vicky Prillaman - Silver 2 – Rings, Rings, Rings
Jan & Keith Stephens - Wire I Spoon Jewelry
Gene Sheridan - Wire 2 Bracelets

DIXIE MINERAL COUNCIL FIELD TRIPS
Field trips are open to all members of associated clubs of the DMC program of the SFMS Field Trip Committee and to all members of SFMS member clubs who have provided their membership with SFMS liability insurance. Because of insurance requirements, members of the GENERAL PUBLIC are NOT invited on any DMC program field trips.

THE MOUNTAIN MINERAL MONTHLY
The Newsletter of the Southern Appalachian Mineral Society, Inc. is published monthly except in January. Articles and information can be mailed to: The Southern Appalachian Mineral Society, Inc., Post Office Box 15461, Asheville, NC 28813 or e-mailed to: sams@main.nc.us
Disclaimer: Articles are published as received, without technical reviews or edits.
Copyright 2017 by the Southern Appalachian Mineral Society, Inc., except for items that are specifically copyrighted by their authors. Other societies may use material published in the Mountain Mineral Monthly, provided that proper credit is given and the meaning of the material is not altered.
Officers:
President: Ken Casebeer ...... 277-1779
1st V.P.: Wayne Steinmetz .... 505-7973
2nd V.P.: Tim Barton ............ 885-8248
Secretary: Kathy Munroe ..... 676-7605
Treasurer/Membership:
Rhonda Ashley ...................... 749-1655
Newsletter & Website Editor :
George Schissler .................... 298-2951
920 Long Branch Rd., Swannanoa, NC 28778, sams@main.nc.us
Ex-Officio: Rudolph Olson III
Directors:
Ann Enderle ............. 670-1996
Joseph Enderle .......... 670-1996
Donald Hathaway ...... 254-8942
Seth Woodall ............. 582-6719

Illustration with text from LIVING FOSSILS by Anne L. Parker. Used by permission of Dr. James P. Parker.

Malachite image Copyright