This is the Web version of the current issue of the Mountain Mineral Monthly, S.A.M.S. newsletter. The newsletter may also be viewed or downloaded as a pdf. The version sent to members, either by post or e-mail includes complete field trip details. For selected articles which have been published in past issues, see Geolore.
Obicular gabbro diorite...obicular gabbro diorite...bet nobody thought I'D find any.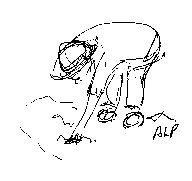 Newsletter of the Southern Appalachian Mineral Society, Inc.
MOUNTAIN MINERAL MONTHLY
Volume 88 March 2019 Number 4


S.A.M.S. Monthly Meeting
Monday, April 1, 2019 7:00 PM
Haden Hall. Riverside Conference Room
Deerfield Retirement Community
Asheville, North Carolina
APRIL PROGRAM
2018 Kilauea Eruptions: Reports from the Field
Last year's volcanic eruptions in Hawaii captured international attention. Wayne Steinmetz, President of SAMS, will share reports and pictures that he received from Richard Hazlett, an expert volcanologist who was in the field during the eruptions. Rick is Professor Emeritus of Geology at Pomona College and now lives in Hawaii. Wayne's talk will draw from Rick's detailed reports, have a brief overview of the geology of the big island, and include exciting pictures. Besides being a longtime member of SAMS and our current president, Wayne is also Professor Emeritus of Chemistry at Pomona College.
Mineral of the Month:
Lava (Hot or Cold)
(Bring to the Meeting)

THIS WILL BE YOUR LAST NEWSLETTER IF YOU HAVE NOT RENEWED YOUR MEMBERSHIP!
If you haven't renewed yet, please fill out the 2019 Membership form found at:
http://www.main.nc.us/sams/MembershipForm2019.pdf
and mail along with your check. Thank You!
April Birthdays
George Schissler Apr 2
Michael Knapp Apr 7
Donald Hathaway Apr 16
Valerie Leonatti Apr 26
Welcome New S.A.M.S. Members
George Gunderson & Jessica Stiles - Lake George, NY

A Reminder That Our Monthly Meetings Are Now In Riverwalk Conference Room In Haden Hall At Deerfield
Directions: Physical Address: 29 Highbridge Crossing. Enter Deerfield Episcopal Retirement Community at 1617 Hendersonville Road. You will be on Lambeth Road. Go straight at the stop sign. Turn left on Highbridge Crossing (you will see a green croquet court). Continue under building connector to top of hill. Pass the parking lot on left for Timson. Stay RIGHT at Y to keep on Highbridge Crossing, and continue to the right until you are in the parking lot facing the Haden Hall building. Do not park in the spaces designated for residents. Enter Haden Hall under the large porte cochere. Turn right at the reception desk, and go past the exercise room on the right and past the River Walk Café on the left where we have our Christmas party. Continue to the Conference Room on the right which is adjacent to the entrance to the Deerfield Spa.
INCLEMENT WEATHER STATEMENT
If the Asheville City Schools are closed on meeting day, then the S.A.M.S. meeting will be cancelled
SOUTHERN APPALACHIAN
MINERAL SOCIETY
Minutes for March 4, 2019
GENERAL
The Southern Appalachian Mineral Society
held its March meeting in the Riverside Conference Room of Haden Hall at Deerfield on Monday, March 4, 2019. The meeting was called to order at 7:02 PM by President Wayne Steinmetz.
There were no corrections or additions to the minutes of the meeting on February 4, 2019. The motion was made to approve the minutes as published in the newsletter. Motion was seconded and approved unanimously. Treasurer's report was given by Rhonda Ashley.
So far this year, we are ahead financially.
21 members and 6 guests were in attendance.
FIELD TRIPS
We will be sponsoring the Dixie Minerals Field Trip next August.
The Sinkhole Mine is closed due to abuse of the site. Wayne has contacted the mine owner and we will have permission to collect for the DMC group. It will involve surface collecting only, and carpooling is required because of limited parking.
Business Meeting ended at 7:18 pm.
PROGRAM
Our speaker was Tim Barton, on the topic of Fluorescent Rocks. He talked about why come rocks fluoresce due to the presence of small amounts of trace elements. More rocks respond to short-wave length light, and the colors are brighter, than under long-wavelength light. He also brought in specimens and UV lights to look at them.

The program ended at 8:00 pm.

Winners of the Door Prizes were:
Patricia Hair: amethyst
Alex Gaye: Ray Mine apatite, moonstone, feldspar and muscovite
Jessica Fink: orbicular sandstone from Michigan
George Schissler: siderite
Kathy Munroe: agate nodule
Don Hathaway: Ray Mine apatite, smoky quartz, muscovite
Steve Schulte: Smoky Quartz from Graves Mountain
As a reminder, the winners are requested to
write and submit to the newsletter a brief
article about their specimens.
Displays were provided by:
Wayne Steinmetz
Tim Barton
Joe Enderle
Refreshments were provided by the staff at Deerfield. Members socialized and viewed the specimens brought in by members.
Respectfully submitted.
Kathleen Munroe
Secretary

Dixie Mineral Council Field Trip
The Southeast Federation of Mineralogical Societies, Inc.
An Official Field Trip of the Georgia Mineral Society (Norcross, GA) (HOST)
An Official Field Trip of the Southern Appalachian Mineral Society

Saturday, April 6, 2019
Meet no later than 8:30 AM EST
Caravan into Quarry at 9:00 AM EST
Bartow County, GA
Registration Required
Sunday, April 7, 2019
9:00 AM EST
Summerville, GA
TRIP: The first location is part of the Corbin Gneiss Complex where porphyroblastic granite gneiss is being mined. The rocks there are some of the oldest in Georgia - approximately 1.2 billion years. The second location is a small, family owned quarry that has been a popular location for local clubs for many years. There will also be an optional side trip to a location close by where a variety of cutting material will be for sale.
COLLECTING: At the first location we will be collecting granite gneiss with blue quartz. Small pieces can be collected by hand and larger pieces can be collected with hammer and chisel. This material can be cut and polished and it also makes nice specimens. The second location is known for its colorful lace banded chert/agate. Most of the material is loose and ranges in size from pebbles to boulders. Some of the material is good for lapidary use and some of it is more suitable for specimens. BRING: For both locations, bring a rock hammer, small sledge, chisel, scratching tools, buckets, and a spray bottle with water to wet the rocks so you can see the color better. You may also need sunscreen and gloves, plus a dolly is recommended for hauling out large rocks and heavy buckets.
REQUIREMENTS: The first location requires gloves, safety glasses, hard hat, and steel toed or sturdy boots with ankle support (hiking boots). No open toed shoes allowed. The same equipment is recommended for the second location, but not required.
SPECIAL CONDITIONS: Both locations are active quarries. STAY AWAY from all heavy equipment, high walls, ponds, and quarry machinery.
TERRAIN AND ACCESSIBILITY: Both locations have flat areas and areas with loose rock. People with mobility issues may have some difficulty navigating over and around boulders. There may also be soft, muddy areas if it rains before or during these trips. Collecting areas are within 100 yards from where we park.
REGISTRATION: Participants must register no later than March 30 because property owners need a head count. To register, send email to fieldtrips@gamineral.org with the name(s) of participants and your club name.
CHILDREN (Yes): Both locations allow children, but they must have adult supervision at all times. And, at the first location, they must have all of the required safety equipment.
PETS: No pets allowed at either location.
FACILITIES: There are NO facilities at either location. Food and restrooms are several miles away.
ACCOMMODATIONS: There are many hotels in Cartersville, GA, which is less than half an hour away from the first location and approximately an hour away from the second location.
ADDITIONAL INFORMATION: Georgia Mineral Society members will be available to answer questions about each location. There will also be a table with examples of collecting material, water, and snacks.
DIRECTIONS AND WHERE TO MEET:
To ensure accurate head counts, only registered attendees will receive directions via email.
UPCOMING SHOWS
March 22-24 HICKORY, NORTH CAROLINA: Annual show; Catawba Valley Gem & Mineral Club, Inc.; Hickory Metro Convention Center, 1960 13th Ave Dr SE; Fri. 9-6, Sat. 9-6, Sun. 10-5; adults $5, free for children under 12, Boy & Girl Scouts in uniform, law enforcement and military with ID, and approved school and youth groups; Theme: "Gems, Minerals and Fossils from the Mountains to the Coast," focal display and presentations, hands-on displays, mini-mine, faceting, cabochon cutting, identification by geologists; contact Dean Russell, 5254 Olde School Drive, Hickory, NC 28602, (828) 303-14; Email: cvgmcsecretary@aol.com; Website: www.cvgmc.com

March 29-31, 2019 RALEIGH, NORTH CAROLINA: Annual show; Tar Heel Gem & Mineral Club; State Fairgrounds, 1025 Blue Ridge Rd, Kerr Scott building; Fri. 3-8, Sat. 10-6, Sun. 10-5; free admission; club display areas, geode booth for purchase and cutting of geodes, demonstrations of gem trees, cabbing, faceting, and wirewrapping, silent auction, and activities for children; contact Cyndy Hummel, 10609 Chelsea Dr, Raleigh, NC 27603, 919-779-6220; Email: mchummel@mindspring.com; Website: tarheelclub.org

April 27th and 28th 2019, Memphis, TN. Memphis Mineral, Fossil, Jewelry Show. Sponsored by the Memphis Archaeological and Geological Society. Agricenter, 7777 Walnut Grove Rd Memphis, TN Saturday, April 27 9-6:00 pm and Sunday, April 28 10-5pm. Over 50 Dealers and Exhibitors selling rocks, fossils, minerals, crystals, gemstones, opals, beads and jewelry. Kids Areas with gem and fossil dig, geode bowling and Rocks around the Clock. Includes the original "Memphis Rock Banquet" a full table display of rocks that look like real food. Adults $5.00. 2- day pass $8.00.Children 12 & under $2.00. Scouts in uniform free, www.theearthwideopen.com, email info@theearthwideopen.com.

May 8-12, 2019 FRANKLIN, NORTH CAROLINA: Annual show; Echo Valley Gem Show; (across from GLW), 6456 Sylva Rd., Wed. 9-6, Thu. 9-6, Fri. 9-6, Sat. 9-6; free; dealers from around the world selling minerals, fossils, rough rock, slabs, cabochons, jewelry, beads, crystals, gems, and geodes Sunday open 9-5pm ; contact Damian w/ Bellpoint ; Email: mbellpoint@gmail.com; Website: www.bellpointinc.com

THE MOUNTAIN MINERAL MONTHLY
The Newsletter of the Southern Appalachian Mineral Society, Inc. is published monthly except in January. Articles and information can be mailed to: The Southern Appalachian Mineral Society, Inc., Post Office Box 15461, Asheville, NC 28813 or e-mailed to: sams@main.nc.us
Disclaimer: Articles are published as received, without technical reviews or edits.
Copyright 2019 by the Southern Appalachian Mineral Society, Inc., except for items that are specifically copyrighted by their authors. Other societies may use material published in the Mountain Mineral Monthly, provided that proper credit is given and the meaning of the material is not altered.
Officers:
President: Wayne Steinmetz .... 505-7973
1st V.P.: Jessica Fink ........843-209-5281
2nd V.P.: Tim Barton .............. 885-8248
Secretary: Kathy Munroe ......... 676-7605
Treasurer/Membership:
Rhonda Ashley ...................... 749-1655
Newsletter & Website Editor :
George Schissler .................... 298-2951
920 Long Branch Rd., Swannanoa, NC 28778, sams@main.nc.us
Ex-Officio: Kenneth Casebeer
Directors:
Joseph Enderle .......... 670-1996
Donald Hathaway ...... 254-8942
Seth Woodall ............. 582-6719

Illustration with text from LIVING FOSSILS by Anne L. Parker. Used by permission of Dr. James P. Parker.

Malachite image Copyright