This is the Web version of the current issue of the Mountain Mineral Monthly, S.A.M.S. newsletter. The newsletter may also be viewed or downloaded as a pdf. The version sent to members, either by post or e-mail includes complete field trip details. For selected articles which have been published in past issues, see Geolore.
Obicular gabbro diorite...obicular gabbro diorite...bet nobody thought I'D find any.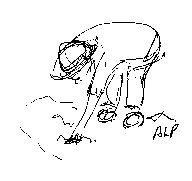 Newsletter of the Southern Appalachian Mineral Society, Inc.
MOUNTAIN MINERAL MONTHLY
Volume 87 July 2018 Number 7
S.A.M.S. Monthly Meeting
Monday, July 2, 2018 7:00 PM
Tuton Hall Community Center
Deerfield Retirement Community
Asheville, North Carolina
JULY PROGRAM
Minerals In Stained Glass
Jessica Fink, a member of SAMS, will give the presentation at the July meeting on the topic "Minerals in Stained Glass".

Mineral of the Month:
Garnet
(Bring to the Meeting)

July Birthdays
Laura Mahan July 1
Jackie Schieb July 2
Allison Stevens July 19
Ann Enderle July 20
Jeff MacFawn July 26
Michael Farley July 28

SOUTHERN APPALACHIAN MINERAL SOCIETY
Minutes for June 4, 2018
GENERAL
The Southern Appalachian Mineral Society
held its June meeting in the Community
Room of Tuton Hall at Deerfield on Monday, June 4, 2018. The meeting was called to order at 7:10 PM by Field Trip Chair Tim Barton.
The motion was made to approve the minutes of the May 7, 2018 meeting as published in the newsletter. Motion was seconded and approved unanimously. Treasurer's report was given by Rhonda Ashley. We are doing well and have no problems.
16 members were in attendance and there were 2 guests.
FIELD TRIPS
The trip to Ray Mine will be rescheduled. Information to be posted.
Tim mentioned a new book he has "Minerals of Georgia" by Robert B. Cook and Julian C. Gray.
Business meeting ended at 7:16 pm.
PROGRAM
Our speaker was Tim Barton and Keith Thompson, talking about their trip out west in 2016.
They visited Colorado, Douglas Pass;
Wyoming – Fossil Butte; and Utah – Arches NP.
The program ended at 7:55 pm.
Winners of the Door Prize raffle were:
Helen Johnson: Amazonite from Ray Mine
Bob Seymore: Apache tears obsidian
Soloman Werley: Amazonite from Spruce Pine
Rosemary Kostansek: quartz from Jackson Crossroads Mine
As a reminder, the winners are requested to
write and submit to the newsletter a brief
article about their specimens.
Displays provided by
Eric Ashley: Smoky quartz
Tim Barton: Shales with fossils, books.
Refreshments were provided by the staff at Deerfield. Members socialized and viewed specimens brought in by members.
Respectfully submitted.
Kathleen Munroe
Secretary
Dixie Mineral Council Field Trip
The Southeast Federation of Mineralogical Societies, Inc.
An Official Field Trip of the Huntsville Gem & Mineral Society (Huntsville, AL) (HOST)
An Official Field Trip of the Southern Appalachian Mineral Society

Saturday, July 28, 2018
Hogg Mine, Troup County, GA
9:00 AM - 5:00 PM
Fee Site
TRIP: The Hogg Mine started out as the Oxford Mine in 1942 to mine beryl to produce beryllium. Commercial operations shut down in 1960. The site has been opened off and on since then for specimen mining and is currently managed by Chris Painter. The site is a surface mine pit approximately 650 feet long with an east – west orientation.
COLLECTING: The parking area is at the east end of the pit. As you enter the pit from the parking area there is a trench approximately 150 feet long and to your right. Here has been found large green Aquamarine beryl and pockets of green Aquamarine beryl. As you enter the main pit area, there is a tailing or spoil pile to your left that came out of the pit in front of you. There has been several large nice gemmy Aquamarine beryl specimens come from this area. The main pit in front of you has a plethora of treasures, Rose Quartz, Smoky Quartz, banded Quartz, Beryl in matrix with the quartz, Tourmaline in matrix with the quartz, etc. The last area of note is at the western end at the back of the pit. There has been a new smaller pit dug in the last year and some very nice Blue Aquamarine Beryl has been found. The new pit was dug because an old drilling report had indicated that Amethyst was found. There are pieces of Amethyst coming from the new pit.
FACILITIES: There is an outhouse available on site. There is plenty of parking. The mine also cooks hamburgers and hot dogs and has drinks. Lunch plate is $8.00
FEE: 17 years old and up is $35 per person, 16 years old and younger dig for free.
TOOLS: Bring all the tools you have: pick, shovel, screen, rock hammer, hand sledge, rock chisel, bucket, hand cart, etc. The Hogg does sale some tools in limited quantities. It would be a good idea to bring an extra change of clothes. The pit can be muddy and wet.
Where we will meet: For members only.
Directions and Drive Time: For members only.

SHOWS
July 25-29, 2018, Franklin, NC: Bellpoint Promotions , Echo Valley Showplace; 6456 Sylva Rd (across from GLW); Wed. 9-6, Thu. 9-6, Fri. 9-6, Sat. 9-6; Free Admission; Wholesale & retail dealers from all over the world selling minerals, fossils, gems, rough rock & beads.; open to the public; across the street from GLW show *Sunday hours 9am-5pm ; contact Damian Belgali, (678)-852-8273; e-mail: mbellpoint@gmail.com; Web site: www.bellpointpromotions.com
July 28 to August 5, 2018, Spruce Pine NC. The 34th Annual Grassy Creek Mineral and Gem Show put on by the Parkway Fire and Rescue to raise money for new equipment. Over 60 US and International dealers with almost any kind of jewelry, gemstone and mineral specimens, fossil, lapidary equipment and more you might want. Each booth is 20 foot by 40 foot so there are LOTS of items for sale. Parking and admission are free. Food is available. Hours: 10 to 6 daily with many vendors open earlier and later because they are staying with their booth. Address: 136 Majestic View, Spruce Pine, NC 28777. This location is on the hill above the previous location.
August 2-5, 2018 Spruce Pine, NC. North Carolina Mineral and Gem Festival. The Festival features gem, jewelry and mineral dealers from across the country showcasing their merchandise to fit every budget. Whether you are shopping for an engagement ring, a special stone for your own setting, a custom designed piece of jewelry or a special crystal display for your home, you can't miss the NC Mineral and Gem Festival.Th, Fri, Sat: 10:00 a.m. – 6:00 p.m., Sun: 12:30 p.m. - 5:00 p.m., Admission: $3, Children under 10 admitted free, Friday: $1 admission for Senior Citizens. The Commons Shopping Center, 12121 Hwy 226 S, Spruce Pine, NC 28777, Contact: Mitchell County Chamber of Commerce, Phone: 828-765-9033, Website: www.ncgemfest.com, Email: ncgemfest@mitchellcountychamber.org
Don't Wait!
Sign Up is NOW OPEN for the 2018 Mine Tours
The popular NC Mineral and Gem Festival Mine Tours will take place August 2 & 3 beginning at 6:30 PM. Made possible by The Quartz Corporation, the mine tours are only open to the public once a year during the Gem Festival. Spaces are limited so sign up fast to grab your seat!
Thursday August 2nd 7-9 PM (Meet at the Festival location at 6:30 PM), Friday August 3rd 7-9 PM (Meet at the Festival location at 6:30 PM)
Tours will meet at the NC Mineral and Gem Festival site 30 minutes prior to the tour for safety training. Transportation to and from the mine will be provided. Tours will be conducted by staff from the mine (Quartz Corporation).
At this time we believe the tours will be at Pine Mountain, an active mine operated by the Quartz Corporation. Should this location change, we will post the update on our website www.ncgemfest.com
Hard hats and safety goggles will be provided. Mine Tour participants are welcome to bring gathering bags or buckets and any tools. Tour participants will be able to collect and keep what they find during the tour.
Cost is $25 Per Person.
Call 828-765-9033 or email kjones@mitchellcountychamber.org to reserve your spots.
August 10-12, 2018, Dalton, GA: Dalton Gem and Mineral Jewelry Show, Northwest Georgia Trade & Convention Center; 2211 Dug Gap Battle Rd; Fri. 2-7, Sat. 10-6, Sun. 11-5; Admission $4, Children free Under 17 w/Adult; There will be concessions available. If you bring your mailer in or show us you have liked our page on Facebook, you will get $1.00 off admission. ; contact Mohammad Tahir, PO Box 4046, Dalton, GA 30719, (706)-537-8960; e-mail: tahir1269@yahoo.com; Web site: https://daltongemandminera.wixsite.com/mysite

THE MOUNTAIN MINERAL MONTHLY
The Newsletter of the Southern Appalachian Mineral Society, Inc. is published monthly except in January. Articles and information can be mailed to: The Southern Appalachian Mineral Society, Inc., Post Office Box 15461, Asheville, NC 28813 or e-mailed to: sams@main.nc.us
Disclaimer: Articles are published as received, without technical reviews or edits.
Copyright 2017 by the Southern Appalachian Mineral Society, Inc., except for items that are specifically copyrighted by their authors. Other societies may use material published in the Mountain Mineral Monthly, provided that proper credit is given and the meaning of the material is not altered.
Officers:
President: Ken Casebeer ...... 277-1779
1st V.P.: Wayne Steinmetz .... 505-7973
2nd V.P.: Tim Barton ............ 885-8248
Secretary: Kathy Munroe ..... 676-7605
Treasurer/Membership:
Rhonda Ashley ...................... 749-1655
Newsletter & Website Editor :
George Schissler .................... 298-2951
920 Long Branch Rd., Swannanoa, NC 28778, sams@main.nc.us
Ex-Officio: Rudolph Olson III
Directors:
Ann Enderle ............. 670-1996
Joseph Enderle .......... 670-1996
Donald Hathaway ...... 254-8942
Seth Woodall ............. 582-6719

Illustration with text from LIVING FOSSILS by Anne L. Parker. Used by permission of Dr. James P. Parker.

Malachite image Copyright