This is the Web version of the current issue of the Mountain Mineral Monthly, S.A.M.S. newsletter. The newsletter may also be viewed or downloaded as a pdf. The version sent to members, either by post or e-mail includes complete field trip details. For selected articles which have been published in past issues, see Geolore.
Obicular gabbro diorite...obicular gabbro diorite...bet nobody thought I'D find any.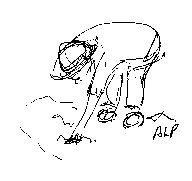 Newsletter of the Southern Appalachian Mineral Society, Inc.
MOUNTAIN MINERAL MONTHLY
Volume 90 March 2021 Number 9
S.A.M.S. Annual Meeting, Picnic and Silent Auction
Sunday, September 12, 2021
Lake Julian Picnic Grounds, Skyland, NC
2:00 pm through 5:00 pm
There is no regular 1st. Monday meeting in September
Club will provide: Meats Coffee, tea bags, apple cider, soft drinks, and ice
Plates, cups (hot/cold), plastic flatware, and napkins
You should bring: A covered dish, enough for five or six (a salad, vegetable dish, casserole or a dessert).
There is electric power at the picnic pavilion.
Item(s) you wish to donate for the Silent Auction.
Schedule: 2:00 pm Set Up and preparation
3:00 pm Social Hour, viewing and bidding on Silent Auction items.3:30 pm Picnic Time!
4:00 pm Short Business Meeting; Closing of silent auction; Clean-up
Silent Auction: One of the highlights of the Annual Picnic is the Silent Auction. Bring an item or items to donate to the Silent Auction.
Ideal items will be things of interest to the rockhound and guests. In addition to rocks, minerals, and fossils, mineral oriented books and tools for rockhounding and lapidary work may be donated. The Auction has been a lot of fun in the past, and promises to be the exciting event of the evening. Come prepared to bid!
Details: The Silent Auction is the main fund-raising event that S.A.M.S. holds on an annual basis. In the past, there have been a very wide variety of items up for bid with some items very hotly contested.
Bidding Procedures: 1. All items auctioned are items donated by club members or friends.
2. All proceeds go to the club's account.
3. Beside each item is a sheet of paper with a description and a pen to note bids.
4. A closing time is announced for selecting the winning bidders.
5. For valuable items a minimum bid may be placed on the item by the donor. If this amount is not exceeded, the item is not auctioned.
6. Bidding may be continued right up to the time the Chairman announces that the auction is over.
7. Winning bidders may claim their items by paying the Treasurer the sum they bid.
Directions to Picnic: The picnic is at Lake Julian Park in Arden NC. It is at a different Picnic Pavilion from the location we have had picnics in the past. It is at Pavilion #6. Access to the pavilion is also different. Traveling south on Hendersonville Hwy, go past Long Shoals Rd. about 1/2 mile and turn right onto Lake Julian Road and it will take you to Picnic Pavilion #6. The right turn is just past an overhead railroad trestle. Lake Julian Road is labeled Fishermans Trail in Google Maps (below) and Apple Maps.

SAMS Officers & Directors Election
Normally a SAMS Officers & Directors Ballot is included with the September Newsletter emailing and print edition. However we have three Officer vacancies, President, 1st V.P. of Programs and Treasurer/Membership Chairman. Therefore we are holding off having an election. The only way our club can function is with the support of it's members. If you can help in any way, please contact SAMS at this email address: sams@main.nc.us
Thanks
R.I.P. Dr. Hal Mahan

S.A.M.S. lost one of its most distinguished members on August 22, 2021. Hal Mahan, who was a long time member of the Club, died at the age of 90. Hal and his wife Laura established The Compleat Naturalist in Biltmore Village after moving to Asheville. This followed a remarkable career as a Professor of Ornithology and as a Director of several large museums. Hal was also a prolific writer and the author of several books.
I don't remember the positions Hal held in our Club, but I do remember his generosity to the Officers and Board of Directors by holding meetings and providing refreshments at both The Compleat Naturalist and at his home. This short article can't begin to describe his life accomplishments. For more information, please refer to:
https://obits.cleveland.com/us/obituaries/cleveland/name/harold-mahan-obituary?pid=199907080
SOUTHERN APPALACHIAN MINERAL SOCIETY
Minutes August 2, 2021

The Southern Appalachian Mineral Society held its Aug 2, 2021 meeting in the Conference Room at the Church of Jesus Christ of Latter-Day Saints at 3401 Sweeten Creek Road, Arden 29704.
The meeting was called to order at 7:02 PM by President Wayne Steinmetz.
Field Trip report
The next trip will be on Aug. 2 to Ray Mine. Meet at the Mine at 9:00 AM.
Election of Officers and Directors will take place during our Annual Picnic on September 12th (the 2nd Sunday in Sept.) at Lake Julian. We will be in a new location at Pavilion # 6.
Directors will be responsible for the slate of candidates.

Future meetings:
Sept 12 Picnic at Lake Julian Park
Oct. 4 Helen Johnson. Geology of Glacier

The Speaker was member Karen Warseck on The Mystery of Jade
She discussed the 2 types of Jade: Jadeite and Nephrite and how they were valued and used by different cultures over the last few thousand years.
The program ended at 7:40 pm.
Tim Barton talked about minerals found at Ray Mine and where in the mine area they are found. He also displayed samples and had a fluorescent light to show how some react to the light.
Winners of the mineral drawing were:
Seth Woodall – tiger eye
Joe Enderle – package of small agates
George Schissler – brecciated jasper
Don Hathaway - chrysocholla
Respectfully submitted,
Kathleen Munroe
Secretary
September Birthdays
Anna Krerstin-Smith Sep 1
Susan Trimm Sep 6
Bonnie Williamson Sep 14

William Holland Workshops have been cancelled but Wildacres Classes are still scheduled. Check out the details here:
https://www.sfmsworkshops.org/wildacres-classes

Wildacres Classes 2021
Wildacres Classes: August 23 - 29
Metal Mania with Cindy Moore
Silver II - Filigree with Jason Hamilton
Wire Wrapping with Rowan Morgan
Casting with Bill Harr
South West Silver with Morning Sherrod
SpecialProjects with Jeff Sheer
Wildacres Classes: September 13 - 19
Casting with Bill Harr
Gem Trees with Jerri Heer
Leather with Tom Slavicek
Gem ID with Teresa Polly
Electro Etching w/Silver Fabrication with Micah Kirby
Chain Maille with Marilou Hillenbrand
Silver III - Inlay II with Chuck Bruce
Metal Mania with Cindy Moore

UPCOMING SHOWS
September 3-6 HENDERSONVILLE, NORTH CAROLINA: Annual show; Henderson County Gem & Mineral Society; Whitmire Center, 310 Lily Pond DR; Fri. 9-6, Sat. 9-6, Sun. 9-6, Mon. 9-6; adults $4.00 children under 12 free with adult; Exhibits, Demos, Vendors, Hourly door prizes; contact Diane M Lapp, 22 Foxmoor Ct, ETOWAH, NC 28729, (828) 775-8098; Email: dlapp48@gmail.com; Website: HCGMS.com
September 17-19 ARDEN, NORTH CAROLINA: Annual show; MAGMA, Jacquot & Son Mining; Camp Stephens, 263 Clayton Road; Fri. 9-6, Sat. 9-6, Sun. 10-4; free admission; 14th annual gem, mineral and fossil show, dozens of vendors from across the U.S. offering gems, minerals, fossils, rocks, artifacts, meteorites, trinitite; contact Richard Jacquot, NC 28748, (828) 779-4501; Email: rick@wncrocks.com; Website: www.AmericanRockhound.com
SAMS Officers:
President: Wayne Steinmetz ...... 505-7973
1st V.P.: Bob Seymour .......719-271-8441
2nd V.P.: Tim Barton............... 885-8248
Secretary: Kathy Munroe ......... 676-7605
Treasurer/Membership:
Peter Lesley...................... 845-282-6282
Newsletter & Website Editor :
George Schissler ..................... 298-2951
920 Long Branch Rd., Swannanoa, NC 28778, sams@main.nc.us
Ex-Officio: Kenneth Casebeer
Directors:
Joseph Enderle .......... 670-1996
Donald Hathaway ...... 254-8942
Seth Woodall ............. 582-6719
Andy Werley................ 7760412

Illustration with text from LIVING FOSSILS by Anne L. Parker. Used by permission of Dr. James P. Parker.

Malachite image Copyright