This is the Web version of the current issue of the Mountain Mineral Monthly, S.A.M.S. newsletter. The newsletter may also be viewed or downloaded as a pdf. The version sent to members, either by post or e-mail includes complete field trip details. For selected articles which have been published in past issues, see Geolore.
Obicular gabbro diorite...obicular gabbro diorite...bet nobody thought I'D find any.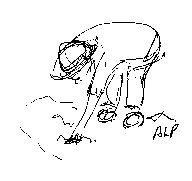 Newsletter of the Southern Appalachian Mineral Society, Inc.
MOUNTAIN MINERAL MONTHLY
Volume 86 December 2017 Number 12

S.A.M.S. Holiday Potluck Dinner
Monday, December 4, 2017
Set-up & Socialize 6:00-7:00 PM
Dinner 7:00 PM
River Walk Café in Haden Hall on the Deerfield campus Directions to River Walk Cafe in Haden Hall
Physical Address: 29 Highbridge Crossing.
Enter Deerfield Episcopal Retirement Community at 1617 Hendersonville Road. You will be on Lambeth Road. Go straight at the stop sign. Turn left on Highbridge Crossing (you will see a green croquet court). Continue under building connector to top of hill. Pass the parking lot on left for Timson. Stay RIGHT at Y to keep on Highbridge Crossing, and continue to the right until you are in the parking lot facing the Haden Hall building. Park and enter under the large porte cochere.
Turn right at the reception desk, and continue straight, past a sitting area to the café on the left.
The December meeting of the Southern Appalachian Mineral Society will consist of a potluck dinner followed by a regular, but brief business meeting and the swearing in of the 2018 officers.
FOR DINNER: S.A.M.S. will provide a sliced ham and hot and cold beverages.
PLEASE BRING: a casserole, a vegetable dish, salad, dessert, or bread to accompany the dinner. (We will NOT have access to the kitchen, so please make sure your dish is ready to serve.)
PLEASE RSVP: If you plan on attending, please RSVP with the number attending in your group by Thursday, December 1 to Ken Casebeer at (828) 277-1779 or casebeer@law.miami.edu. We need to know how many tables to set up. You could also let him know what you are bringing, so we can coordinate if there are too many of one item.
MINERAL CONTEST & SILENT AUCTION: We will have two contest categories, Best Find in North Carolina and Best Find Outside of North Carolina. The specimens you bring don't need to have been found in 2017.

PRESIDENT'S MESSAGE
Ho, Ho, Ho. It's that time of year and I hope everyone is Merry. Our Annual Meeting cleverly disguised as our Holiday Party will be December 4 from 7:00-9:00 in the Cafe in Haden Hall, Deerfield. As usual we will provide the main dish, utensils, drinks. Everyone should bring their favorite side dishes and especially yummy desserts (as opposed to yummy deserts). We will have awards and a great silent auction.
This will be our last chance for fellowship before our next regular meeting in February. However, if the possibility of a field trip comes up, watch for an email before then.
IT'S TIME TO RENEW YOUR MEMBERSHIP!
Please fill out the 2018 Membership form mailed with this newsletter or sent as an e-mail attachment. Bring to the Holiday Potluck or mail with your check before December 31. Thank You!
NOVEMBER S.A.M.S. FIELD TRIP
Lake Douglas, Tennessee
November 24, 2017
Date: November 24, 2017. We will notify by email and on our website if we reschedule the trip due to inclement weather.
Place: Lake Douglas, Tennessee
Minerals: Doubly-terminated quartz crystals ,clear, milky, or smoky with carbon inclusions, geodes, graptolite, stromatolite colorful (yard?) rocks.
Equipment: Bring lunch, drink, and containers for crystals; shovel and tools are optional and usually not needed. You may want to bring boots if it has recently rained. There are no rest room facilities.
Lake Douglas is one of TVA's multi-purpose lakes. The water level is lowered as much as 60 feet below the top of gates in the winter, exposing large areas of what will be submerged land later in the summer. Late November is an excellent time to explore the dry areas for crystals, providing the sun will shine and it hasn't rained for a few days before the trip.
Meeting Location: For Members Only.
Directions: For Members Only.
UPCOMING SHOWS
December 1 – 3, 2017, Hudson, FL 43 ANNUAL GEM, MINERAL FOSSIL & JEWELRY SHOW
from 9:00 AM until 5:00 PM, with setup for vendors on November 30th.
The show will be held at Veterans Memorial Park, 14333 Hicks Rd., Hudson FL 34669. Follow State Road 52 to Hicks Road, go north 2.5 miles to Veterans Memorial Park Special Junior Activities on Saturday
Admission $3, Teens $1, 12 and under free. Hourly Drawings
Show Chairman Ralph Barber 352-200-6852
Show Information Judith Birx 352-587-1702 http://www.withlacoocheerockhounds.com/
December 9 & 10, 2017; Franklin, TN EARTH TREASURES SHOW. 2nd weekend each December Gem, Jewelry, Mineral, Fossil Show & Sale Mid-Tennessee Gem & Mineral Society. Saturday: 9 AM TO 6 PM Sunday 10 AM TO 5:00 PM. Williamson County Ag Expo Park 4215 Long Lane Franklin, TN., 37064. Exit I-64 at exit 61 (20 miles south of Nashville) and turn east onto Peytonsville Road. Drive 1⁄4 mile and turn left onto Long Ln. and then right into AgExpo Park's parking lot. ADMISSION: Adults $5 (2-day pass $7), Students 18 and under $1.00, Children under 12 with adult free. Over 30 Dealers plus classes, speakers, exhibits, demonstrations, silent auction, and door prizes hourly. Show features handmade silver, stone, and Native American jewelry, lapidary and faceting rough, slabs, fossils and mineral specimens, supplies, tools, and more. For additional information and maps visit www.MTGMS.org/show.htm Show contacts: Mardy Smith, Show Chair (show@MTGMS.org) or Steve Henegar, Dealer Chair (show@MTGMS.org) Email: show@MTGMS.org Classes at the show: All classes are on Saturday 12/09 and start at 10:00 AM until 4:00 PM. Traditional Wire Jewelry Techniques with Dale "Cougar" Armstrong. Metal Clay (PMC) Jewelry, Design Basics with Pat Lillie, Scrimshaw with Rich Williams, Flintknapping - Making stone tools with Michael J. Miller For more information on the classes send email to: classes@mtgms.org Society Website: www.mtgms.org
February 17 & 18, 2018, Vero Beach, FL Treasure Coast Rock and Gem Society
10­5 sat 10­4 sun The show is located in Vero Beach at the Community Center 14th Avenue & 23rd Street Downtown Vero Beach,FL 32960 email: treasurecoastrgs@gmail.org website: http://www.
Show Chair: Vina Proper 772­519­0533 Co show Chair: Ann Metz 772­231­0218
Show is actively recruiting vendors; if interested, please contact the show chairs for application and information.
Minutes for November 6, 2017
The Southern Appalachian Mineral Society held its November meeting in the Community Room of Tuton Hall at Deerfield on Monday, Nov. 6, 2017. The meeting was called to order at 7:04 pm by President Ken Casebeer.
The motion was made to approve the minutes of the Oct. 2, 2017 meeting as published in the newsletter. Motion was seconded and passed. Rhonda Ashley gave her Treasurer's report – the accounts are about the same. Motion was made to accept the report, it was seconded and passed. There were 21 members present, and 2 guests.
Ken gave a report on Hey Day at the WNC Nature Center on Oct. 7. Even though there was construction by the barn, we had a good turnout with 400 cups purchased. We gave $60.00 to the Nature Center.
FIELD TRIPS
Grove Stone Quarry on Oct. 14 had 8 members present. We hiked with a group from Swannanoa Museum on a 3 mile trail around the property.
The Wilson Creek trip had 2 members attend, and collect rocks from the river.
The Business Meeting ended at 7:15 pm.
PROGRAM
A talk titled "Geological Treasures of the Canyon Country of Utah" was given by
Wayne Steinmetz. He covered 7 National Parks and Monuments in that state
The program ended at 7:45 pm.
Members who had displays were:
Ken Casebeer – granites
Eric Ashley – granites
Kathy Munroe – granites
Tim Barton – Lake Douglas quartz and fossils
Doorprize winners were:
Keith Thompson – Garnets
Jackie Schieb – geodes from Lake Douglas
Frankie Pegg – tourmaline
Caden Bennett-Worley – amazonite
Bobbie Ellis – calcite
Winners are asked to write up some information on their selection and send it to the newsletter.
Respectfully submitted by
Kathleen Munroe
Secretary

December Birthdays
Curtis Allen Dec 9
Hazel Goode Dec 9
Marcia Baker Dec 14
Brenda Mead Dec 22
Lillian Bradley Dec 29
Dixie Mineral Council Field Trip
The Southeast Federation of Mineralogical Societies, Inc.
An Official Field Trip of the Emerald City Rock and Gem Club
(Greenwood, SC) (HOST)
An Official Field Trip of the (enter your associated club's name here!)

Saturday, December 9, 2017
9:00 am to 2:00 pm EST
Diamond Hill Mine
Antreville, Abbeville County, SC
Fee (See Below)
TRIP: This is a very popular site that has had the spoil heaps turned over regularly this fall. In our travels around the country we've run into people from all over who love coming here. Recently people have been finding aquamarine in smoky quartz matrix. We often don't know what we've found until we get it home and clean it up!
COLLECTING: Quartz crystals (milky, skeletal, smoky, and some amethyst - rare), Beryl/Aquamarine - rare. Garnet and epidote finds have also been reported.
BRING: Digging tools, buckets, work gloves, and don't forget weather protection gear, water and snacks. It can be muddy, depending on the weather.
REQUIREMENTS: Participants can take away as much as can fit in their car. Recently, there have been some problems with people digging outside the confines of the mine area, specifically into the county road easement. Participants are asked to stay on the mine side of the log. The mounds of dirt are fairly tall, so stout shoes are recommended. A wide path to the back area of the mine has been created making that an easier walk. Hand tools only.
FEE: $20 per adult 18 and up, cash only (Checks are accepted only from a club account). Teens and Seniors $10. Children 12 and under $5.
CHILDREN: Yes. This is a great place for children.
PETS: Yes. Diamond Hill Mine is pet friendly.
FACILITIES: There are picnic tables and a porta potty, but no running water. If you want to clean your finds before taking them home, bring some water and a scrub brush.
DIRECTIONS AND WHERE TO MEET: For Members Only.
DIXIE MINERAL COUNCIL FIELD TRIPS
Field trips are open to all members of associated clubs of the DMC program of the SFMS Field Trip Committee and to all members of SFMS member clubs who have provided their membership with SFMS liability insurance. Because of insurance requirements, members of the GENERAL PUBLIC are NOT invited on any DMC program field trips.

THE MOUNTAIN MINERAL MONTHLY
The Newsletter of the Southern Appalachian Mineral Society, Inc. is published monthly except in January. Articles and information can be mailed to: The Southern Appalachian Mineral Society, Inc., Post Office Box 15461, Asheville, NC 28813 or e-mailed to: sams@main.nc.us
Disclaimer: Articles are published as received, without technical reviews or edits.
Copyright 2017 by the Southern Appalachian Mineral Society, Inc., except for items that are specifically copyrighted by their authors. Other societies may use material published in the Mountain Mineral Monthly, provided that proper credit is given and the meaning of the material is not altered.
Officers:
President: Ken Casebeer ...... 277-1779
1st V.P.: Wayne Steinmetz .... 505-7973
2nd V.P.: Tim Barton ............ 885-8248
Secretary: Kathy Munroe ..... 676-7605
Treasurer/Membership:
Rhonda Ashley ...................... 749-1655
Newsletter & Website Editor :
George Schissler .................... 298-2951
920 Long Branch Rd., Swannanoa, NC 28778, sams@main.nc.us
Ex-Officio: Rudolph Olson III
Directors:
Ann Enderle ............. 670-1996
Joseph Enderle .......... 670-1996
Donald Hathaway ...... 254-8942
Seth Woodall ............. 582-6719

Illustration with text from LIVING FOSSILS by Anne L. Parker. Used by permission of Dr. James P. Parker.

Malachite image Copyright