This is the Web version of the current issue of the Mountain Mineral Monthly, S.A.M.S. newsletter. The newsletter may also be viewed or downloaded as a pdf. The version sent to members, either by post or e-mail includes complete field trip details. For selected articles which have been published in past issues, see Geolore.
Obicular gabbro diorite...obicular gabbro diorite...bet nobody thought I'D find any.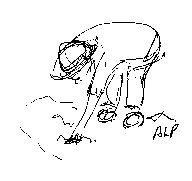 Newsletter of the Southern Appalachian Mineral Society, Inc.
MOUNTAIN MINERAL MONTHLY
Volume 87 December 2018 Number 12

S.A.M.S. Holiday Potluck Dinner
Monday, December 3, 2018
Set-up & Socialize 6:00-7:00 PM
Dinner 7:00 PM
River Walk Café in Haden Hall on the Deerfield campus
Directions to River Walk Cafe in Haden Hall
Physical Address: 29 Highbridge Crossing.
Enter Deerfield Episcopal Retirement Community at 1617 Hendersonville Road. You will be on Lambeth Road. Go straight at the stop sign. Turn left on Highbridge Crossing (you will see a green croquet court). Continue under building connector to top of hill. Pass the parking lot on left for Timson. Stay RIGHT at Y to keep on Highbridge Crossing, and continue to the right until you are in the parking lot facing the Haden Hall building. Park and enter under the large porte cochere.
Turn right at the reception desk, and continue straight, past a sitting area to the café on the left.
The December meeting of the Southern Appalachian Mineral Society will consist of a potluck dinner followed by a regular, but brief business meeting and the swearing in of the 2019 officers.
FOR DINNER: S.A.M.S. will provide a sliced ham and hot and cold beverages.
PLEASE BRING: A casserole, a vegetable dish, salad, dessert, or bread to accompany the dinner. (We will NOT have access to the kitchen, so please make sure your dish is ready to serve.)
PLEASE RSVP: If you plan on attending, please RSVP with the number attending in your group by Saturday, December 1 to Kathy Munroe at (828) 676-7605 or munroek114@gmail.com. We need to know how many tables to set up. You could also let her know what you are bringing, so we can coordinate if there are too many of one item.
MINERAL CONTEST & SILENT AUCTION: We will have two contest categories, Best Find in North Carolina and Best Find Outside of North Carolina. The specimens you bring don't need to have been found in 2018.


HAPPY BIRTHDAY BILL

On November 20th, our great friend and eldest member of the club, Bill Haggard, will celebrate his 98th birthday. Bill and his family have contributed greatly to the success of S.A.M.S. over the decades, and we enjoy the pleasure of holding our meetings in the fine facility at Deerfield because of him.
If you have been a member long enough to know Bill and would like to send him greetings, his address is:

Mr. William H. Haggard
49 Highbridge Crossing, Apt. 4139
Asheville, NC 28803
December Calendar
Nov. 23 SAMS Field Trip - Lake Douglas p. 3
Dec. 3 SAMS Holiday Potluck Dinner p. 1
Dec. 15 DMC Field Trip - Fernandina Beach, FL p. 5

NO JANUARY MEETING
COMBINED JANUARY & FEBRUARY NEWSLETTER
IT'S TIME TO RENEW YOUR MEMBERSHIP!
Please fill out the 2019 Membership form mailed with this newsletter or sent as an e-mail attachment. Bring to the Holiday Potluck or mail with your check before December 31. Thank You!
NOVEMBER S.A.M.S. FIELD TRIP
Lake Douglas, Tennessee
November 23, 2018
Date: Friday, November 23, 2018. We will notify by email and on our website if we reschedule the trip due to inclement weather.
Place: Lake Douglas, Tennessee
Time: We will meet at Westgate.
Minerals: Doubly-terminated quartz crystals ,clear, milky, or smoky with carbon inclusions, geodes, graptolite, stromatolite colorful (yard?) rocks.
Equipment: Bring lunch, drink, and containers for crystals; shovel and tools are optional and usually not needed. You may want to bring boots if it has recently rained. There are no rest room facilities.
Lake Douglas is one of TVA's multi-purpose lakes. The water level is lowered as much as 60 feet below the top of gates in the winter, exposing large areas of what will be submerged land later in the summer. Late November is an excellent time to explore the dry areas for crystals, providing the sun will shine and it hasn't rained for a few days before the trip.
Meeting Location: To facilitate carpooling, we will meet in the parking lot next to the Frugal Backpacker at Westgate Shopping Center in Asheville off I-240.
Contact: Tim Barton - Home: 885-8248
- Cell: 577-4505
UPCOMING SHOWS
January 11 & 13, 2019, Largo FL, Pinellas Geological Society Forty-Third Annual Gem, Jewelry and Mineral Show and Sale. Friday and Saturday 10 AM to 5 PM, Sunday Noon to 5 PM, Central Park Performing Arts Center, Parkside Room, 105 Central Park Drive, Largo, Florida. Turn south off East Bay Drive just one block east of Seminole Blvd. Free admission. Donation $2.00 for hourly drawing. Silent Auction every hour. Unique jewelry has fascinated mankind since cave days. Today that still holds true as men and women create wonderful gem and mineral ornaments from nature's abundant rocks and minerals. Members of the Gem and Mineral Clubs in our area gather together monthly to share their hobby. The members of the Pinellas Geological Society and other local Gem and Mineral Clubs will be showing their cut gems, silver and gold jewelry, wire wrap, beading, cabachons, and collections of rocks and minerals for your viewing pleasure and purchase. This show is for everyone of all ages (free rock bags for children) who are fascinated by and enjoy seeing and learning more about nature's beauty in gems, rocks and minerals. Contact person: Leona Feldhausen , Co-Chairperson; (727) 709-3236
February 16th & 17th 2019, Vero Beach, FL. Treasure Coast Rock and Gem Society. 43rd Annual show.
Vero Beach Community Center, 2266 14th Ave, Vero Beach, FL 32960, Downtown

Newsletter Deadline
The deadline for the February 2019 issue of the Mountain Mineral Monthly is:
January 16, 2019

SOUTHERN APPALACHIAN
MINERAL SOCIETY
Minutes for November 5, 2018
GENERAL
The Southern Appalachian Mineral Society
held its November meeting in the Riverside Conference Room of Haden Hall at Deerfield on Monday, November 5, 2018. The meeting was called to order at 7:01 PM by President Wayne Steinmetz.
The motion was made to approve the minutes of the October 1, 2018 meeting as published in the newsletter. Motion was seconded and approved unanimously. Treasurer's report was given by Rhonda Ashley. We need to fill out a 503(c) tax form.
At the Nature Center's Hey Day, we sold 408 cups for a total of $102.00. We made a $50.00 donation to the Nature Center and paid $13.00 for minerals.
We can use more mica for next year. Bring in any extra treasures that you may have for next year.
16 members and 2 guests were in attendance.
FIELD TRIPS
The new road construction on NC 19 between Burnsville and Spruce Pine has almost finished removing the rock area on the east side of the South Toe River. A large pile of rocks has been temporarily placed on the north side of the road and can be easily accessed.
We will be sponsoring the Dixie Minerals Field Trip next August, so we need to find a site to go to.
Business Meeting ended at 7:13 pm.
PROGRAM
Our speaker was Khoi M. Le, P.E. and the topic was "Petroleum Industry – A Current Perspective".
It included an overview of the petroleum industry and the basic properties and procedures used.
The program ended at 7:50 pm.

Winners of the Door Prizes were:
Roberta Perry – Rhodolite garnet
Patricia Hain – Quartz crystals
Alexander Gaye – flexible sandstone
Andy Werley – agate from Arizona
As a reminder, the winners are requested to
write and submit to the newsletter a brief
article about their specimens.
Displays of fossils were provided by
Wayne Steinmetz:
Eric Ashley
Ed Kostansek
Bob Seymour
Refreshments were provided by the staff at Deerfield. Members socialized and viewed the specimens brought in by members.
Respectfully submitted.
Kathleen Munroe
Secretary

December Birthdays
Brenda Mead Dec 22
Rosemary Kostansek Dec 26

January Birthdays
Kathleen Munroe Jan 1
Linda Schissler Jan 4
Sandy Edmonds Jan 6
David Goode Jan 16
Rudy Olson III Jan 17

Newsletter Deadline
The deadline for the February 2018 issue of the Mountain Mineral Monthly is:
January 17, 2018

Dixie Mineral Council Field Trip
The Southeast Federation of Mineralogical Societies, Inc.
An Official Field Trip of the Jacksonville Gem and Mineral Society (Jacksonville, FL) (HOST)
An Official Field Trip of the Southern Appalachian Mineral Society
Saturday, December 15, 2018
9:00 AM Eastern Standard Time
Fernandina Beach
Fernandina Beach, Florida
TRIP: Amelia Island sharks' teeth are sourced from the dredging of nearby channels to the north and west (and reportedly date back to a 20-million-year-old geological deposit). The island receives sand from this dredging which is pumped back onto the beach in re-nourishment efforts that take place every several years. The last beach re-nourishment was completed in March 2018.
COLLECTING: Shark teeth and other treasures from the sea. When we start, there will be an incoming tide (low 7:53 am – high 2:15 pm).
BRING: The only tools you actually need are your eyes and patience and something in which you can store your finds. For serious hunters a trowel or small shovel and a screen can be helpful.
REQUIREMENTS: This is a public beach so no special requirements. Dress for a December day at the beach (checking the weather forecast in advance is advisable).
CHILDREN (Yes): Children of all ages are welcome.
PETS (Yes): Dogs are allowed on the beach but must be leashed. Also, please clean up after your dog.
FACILITIES: We will be starting at Main Beach Park which has restrooms and some picnic tables.
OTHER INFORMATION: We will be in the historic town of Fernandina Beach which offers a wide range of lodging and dining.
DIRECTIONS AND WHERE TO MEET: For members only.
CONTACT: For further information, please contact Stephen Waddill at JGMSfieldtrips@jaxgemandmineral.org. On the day of the trip call (904)-400-4066.

THE MOUNTAIN MINERAL MONTHLY
The Newsletter of the Southern Appalachian Mineral Society, Inc. is published monthly except in January. Articles and information can be mailed to: The Southern Appalachian Mineral Society, Inc., Post Office Box 15461, Asheville, NC 28813 or e-mailed to: sams@main.nc.us
Disclaimer: Articles are published as received, without technical reviews or edits.
Copyright 2018 by the Southern Appalachian Mineral Society, Inc., except for items that are specifically copyrighted by their authors. Other societies may use material published in the Mountain Mineral Monthly, provided that proper credit is given and the meaning of the material is not altered.
Officers:
President: Wayne Steinmetz .... 505-7973
1st V.P.: Wayne Steinmetz .... 505-7973
2nd V.P.: Tim Barton ............ 885-8248
Secretary: Kathy Munroe ..... 676-7605
Treasurer/Membership:
Rhonda Ashley ...................... 749-1655
Newsletter & Website Editor :
George Schissler .................... 298-2951
920 Long Branch Rd., Swannanoa, NC 28778, sams@main.nc.us
Ex-Officio: Kenneth Casebeer
Directors:
Joseph Enderle .......... 670-1996
Donald Hathaway ...... 254-8942
Seth Woodall ............. 582-6719

Illustration with text from LIVING FOSSILS by Anne L. Parker. Used by permission of Dr. James P. Parker.

Malachite image Copyright