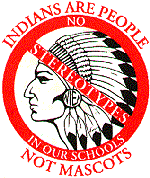 ORGANIZATIONS TO CONTACT REGARDING THE SCHOOL MASCOT ISSUE
The Buncombe County Native American Intertribal Association.
Don and Pat Merzlak 828-254-0010
Bruce Two Eages 828-683-1889
N.C. Commission of Indian Affairs
Gregory Richardson 919-733-5998
WNC Citizens for an End to Institutional Bigotry
Bob Warren 828-669-5709
Monroe Gilmour 828-669-6677

Asheville-Buncombe Community Relations Council
Bob Smith, Executive Director 828-252-4713
Buncombe County Public School Board members
(Click here for a list of members with addresses and phone numbers)



BACK TO INDIAN MASCOT PAGE

---

---
For suggestions on how you can be involved in bringing about justice and fairness for all people in our community please contact us:
Western North Carolina Citizens For An End To Institutional Bigotry(WNCCEIB)
PO Box 18640
Asheville, NC 28814
Tel: 828-669-6677
Fax 828-669-8862
e-mail: wncceib@buncombe.main.nc.us
* * * * * * * * *
WNCCEIB is a non-profit, tax-exempt project of the Western Carolina Coalition For Social Concerns. WNCCEIB expresses its appreciation to the Greensboro Justice Fund, the Robert J. and Eunice J. Wagner Foundation, and other generous donors for their support.