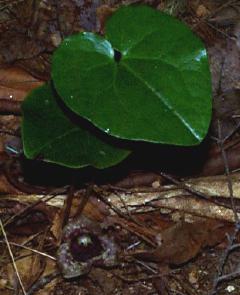 This plant is also aromatic.

FAMILY:
Birthwort Family (Aristolochiaceae)
DESCRIPTION:
From pair of waxy, evergreen leaves stems the flower which is a mottled red-brown to maroon fleshy, wide-lobed calyx. The flower is cup-shaped and about 1 1/2" wide.
FLOWERS:
May to July
HABITAT:
Deep, rich woods.
OTHER INFORMATION:
Names and characteristics make this easily confused with Wild Ginger (Asarum canadense) of the same family, which is distinguished by having hairy leaves and not evergreen. Also may be confused with the more prolific Galax that is not in flower, but Galax has round teeth along its leaf edges, unlike Heartleaf Ginger which has a smooth margin.