Your membership goes a long way to helping promote running and fitness in the Asheville area. Our membership includes kids age 5-85, elites and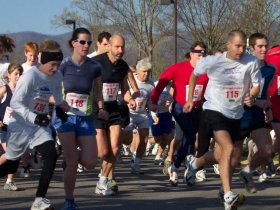 walkers, participants and supporters. We're an inclusive club that is heavily involved in the community and other non-profit organizations. Some of the benefits of being a member include:
Bi-monthly social events like our summer picnic with Coach Roy Benson's camp (June), our tailgate party at the Maggie Valley Moonlight 8k (August) and our annual holiday party (December)

Expert advice on running, fitness, injury prevention and recovery at bi-monthly club get-togethers

Group runs and workouts almost nightly
Memberships are just $5 for students, $15 for individuals and $20 for families. Memberships run from Jan. 1 through Dec. 31.