ASHE COUNTY GENEALOGY

As an introduction, family comes native in Ashe County, at least in my extended family where my maternal grandmother was a Faw, and both her parents second cousin Faw's, and daily conversation was family, food and Faw's. As a child I found that conversation may in one breath include today's activities and issues, and in the next those of a two hundred year old past. Both told with the same sense of immediacy and import, then delineated in exquisition detail and debate, down unto the last living connection to the line and how they connected to all other local lines...but it made history real to me, and when I read Faulkner said that the past is still with us, in fact it's not even past, I understood in my long line of Faw bones what he meant, it mattered.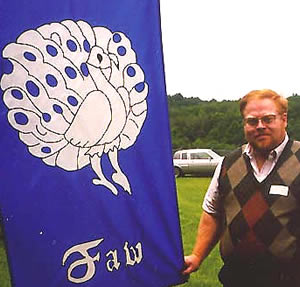 .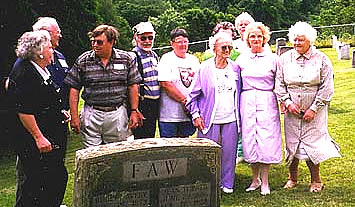 .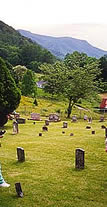 Faw Family Reunion 1998 and a visit to Robert Faw Cemetery
So I absorbed the Faw story, eventually bought a copy of the Faw book, reviewed Faw info, searched for more, and started to find and put together a new set of information which correctly the missing pieces of the broader Faw story. Where we traced the story of Jacob Faw I, immigrant to America in 1749, I found traces of his following his earlier immigrant family, and moreso, his communal home community of associated lines that shared the immigration and establishment of America. there was also a sister to Jacob Faw who came. Jacob faw ended up in Muddy Creek, Winston-Salem area, near the Fraternity Church of the Brethren. The sister's family ended up In Bethabara and Bethania settlements just north of Winston, so all moved near the Moravians and stayed close to their communal roots as they followed down through the Shenandoah Valley. A long list of extended relatives rest in those two places burial sites called God's Acre's. Pic 1 Pic 2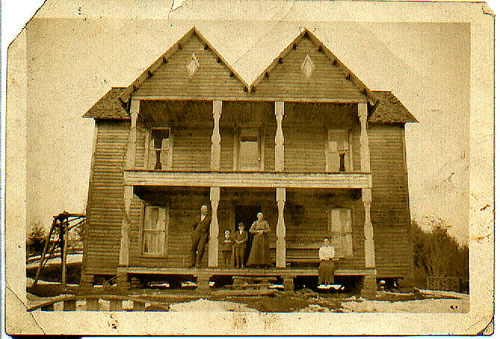 Faw Home on New River
Jacob's son Abraham Faw became my cause, for he was important to two other places I knew well, Alexandria, Va., and Frederick, Md., playing an important role as a Revolutionary and bridging the German community to the English power and political structure. And I found his extended family in a typescript of the Lowe family Bible in the Maryland Historical Society.
| | | | | |
| --- | --- | --- | --- | --- |
| | | | Abraham Faw signed Maryland's copy of the U.S. Constitution | Rev. Jacob Faw built up the Fraternity Church of the Brethren in Winston Salem |
| | Revolutionary Barracks built by Abraham Faw, Frederick, Maryland | | | |
"Remembering my Revolutionary Ancestor - Abraham Faw" And a poem, Calloway Cemetery
Recently I've uncovered the further stories of Jacob's sisters in America, I hope to review my findings at the Faw Family reunion in 2012.
In Ashe County, the Faw's lands covered much of the penisula of the horseshoe bend of the New River and the Old Fields section of Obids. many of them lie in Calloway Cemetery. Like the Calloways, Cutbirths, Boone's, Baker, Wilcoxsen, and Brinegar families, they are well interconnected in Ashe County.
A Survey of Calloway Cemetery in 1983
Ham Cemetery, Horse Creek
North Carolina GenWeb Project Home
New River Valley Historical Notes - Excellent Site!
North Carolina Genealogy Links
Couisn Connect (Querries)
[ HOME ] [ MAP ] [ VISIT ] [ HISTORY ] [ GENWEB ] [ REGION ]