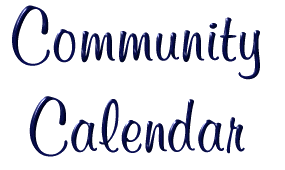 Clay Lodge #301


The Clay Lodge #301, A.F.&A.M. will hold their Stated Communication on the third Monday of the month at 7:30 PM.

---



NARFE To Meet


The National Associaton of Retired Federal Employees (NARFE) meets every third Monday at 9 AM at the Hayesville Family Restaurant. Please call 389-6061 for more information.

---



Alzheimer's Support Group


The Alzheimer's Support Group meets the first Monday of each month at Carolina Community Bank in Hayesville, North Carolina. For more information please call Dana Hein, Alzheimers Resource Coordinator at 828-837-9140.

---



Become A Member Of Clay County Historical Arts Council


Clay County Historical Arts Council Membership Drive is still open, if you would like to become a member. Mail your contribution to the Clay County Historical Arts Council, P.O. Box 5, Hayesville, NC 28904. Anyone interested in working on museum exhibits, please call 389-6568.

---



Job Link/Employment Services


The purpose is to help anyone in our area to become self-sufficient. This may be done through evaluating clients strengths and weaknesses; helping them overcome any barriers that may exist and/or referring them to available job openings. The office is located in Community Service Building across the lobby from the health department in Hayesville. The schedule follows: Monday 9 AM-4 PM Work First; first/third Tuesday: 8 AM-5 PM Vocational Rehab; second/ fourth Tuesday: 8 AM-5 PM HRD/Tri-County Community College; and Thursday: 8 AM-5 PM Employment Security.

---



Clay County Senior Center Seeking Drivers


Seeking volunteer drivers to deliver "Meals On Wheels". We only need about 1 1/2 hours of your time on Mondays, Wednesdays, or Thursdays. Contact the Senior Center at 389-9271 or 389-9550.

---



Monthly Meeting For Valley River Humane Society


The monthly meeting for the Valley River Humane Society will be at 6:30 PM, the first Tuesday of each month at the Penland Senior Center in Murphy. All members are urged to attend and the public is welcome.

---



VFW News


Clay County VFW Post 6812 meets the second and the fourth Thursday, at 6:30 PM. Also, fourth Thursday of the quarter: March, June, September and December. VFW wives, dependants and guests are invited to attend a covered dish supper. The post provides the main dish and the beverages. Bring your favorite dish and share in the fellowship.

---



CCCC Auxiliary Monthly Meeting


The Clay County Care Center Auxiliary, Inc., will have a meeting on the second Monday of each month, at 10 AM at the Care Center in Hayesville. Please come by and join us for coffee and friendship.
Please give an hour or two of your time and some love from your heart, to put a smile on our residents' faces! For more information, please call B.J. Johnson at (828)389-4118.

---