"Scherenschnitte"
The Scissor-Cutting Art of Marie-Helene L. Grabman
ABOUT THE ARTIST
HOME EXHIBITIONS GALLERY 1 GALLERY 2 GALLERY 3 GALLERY 4
GALLERY 5 GALLERY 6 CUSTOM DESIGNS FAQ's LINKS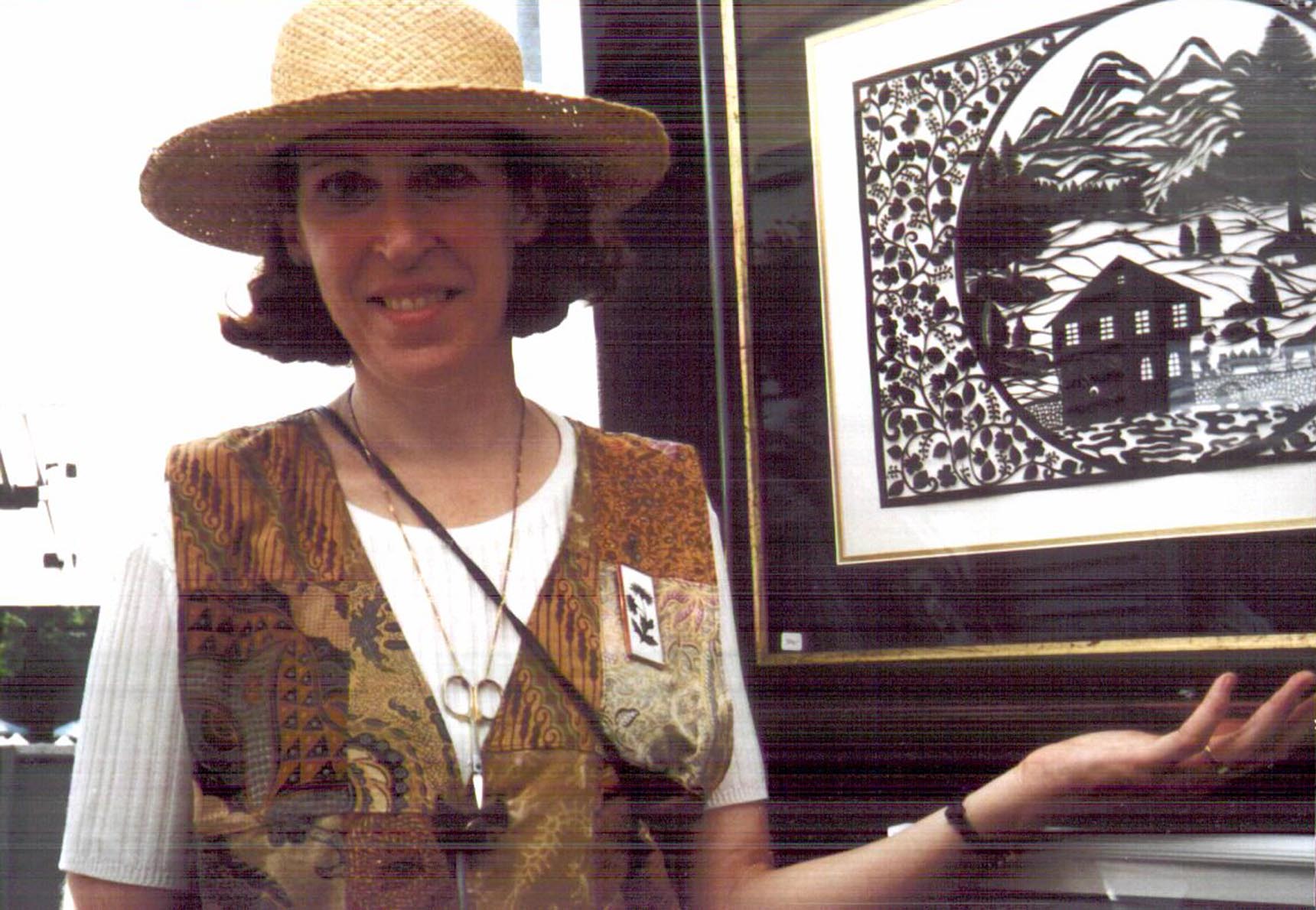 Marie-Helene Grabman is one of the few fine artists executing original works of scissor-cut paper - "Scherenschnitte". She first learned cutting techniques from her grandmother. Later, from studies of electronic and print journalism at the University of Detroit, then as a TV news professional, she mastered the concepts to design in a medium that contrasts mirror images and asymmetry.
A serious student of Scherenschnitte, she combines both secular and religious influences of European development and American heritage. She uses only scissors to create each refined, uniquely detailed, graceful work. While she completes simple cutting in hours, intricate work can require a year to fully develop.
In 2007, Marie-Helene was invited to the International Papercutting Festival in Datong, China. She has one of her scissor cuttings in China's permanent collection. At the Festival, she was given the
"International Distinguished Paper-cutting Arts Master" award.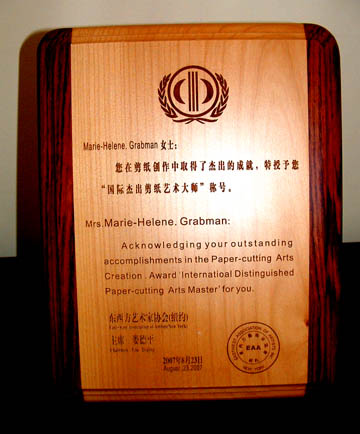 Marie-Helene was one of 5 American scissor cutters invited to show her work at the Swiss National Museum, Zurich, Switzerland, in an exhibition devoted to contemporary American interpretation of the work- "Going West: Swiss Folk Art in America".
In 1999, she was asked to create an ornament for the White House Blue Room Christmas tree. It is in their permanent collection: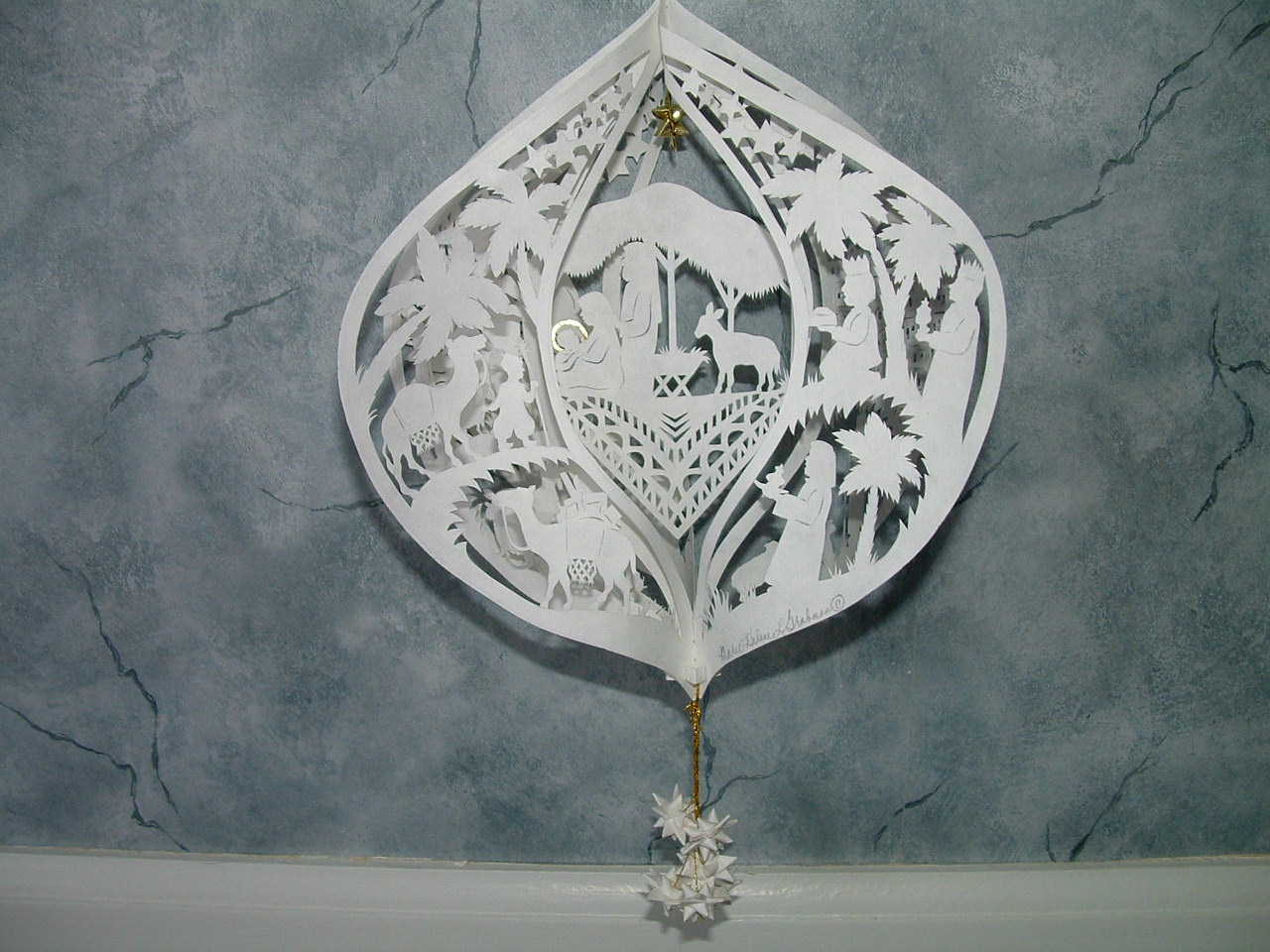 She is listed in Early American Life's "Directory of the 200 Best American Craftsmen" (yearly since 1991).
She was awarded Early American Life's 1st ever "Heritage Artisan Award" for outstanding craftsmanship by a jury of 20 judges - museum curators, antique dealers, independent scholars and professional instructors.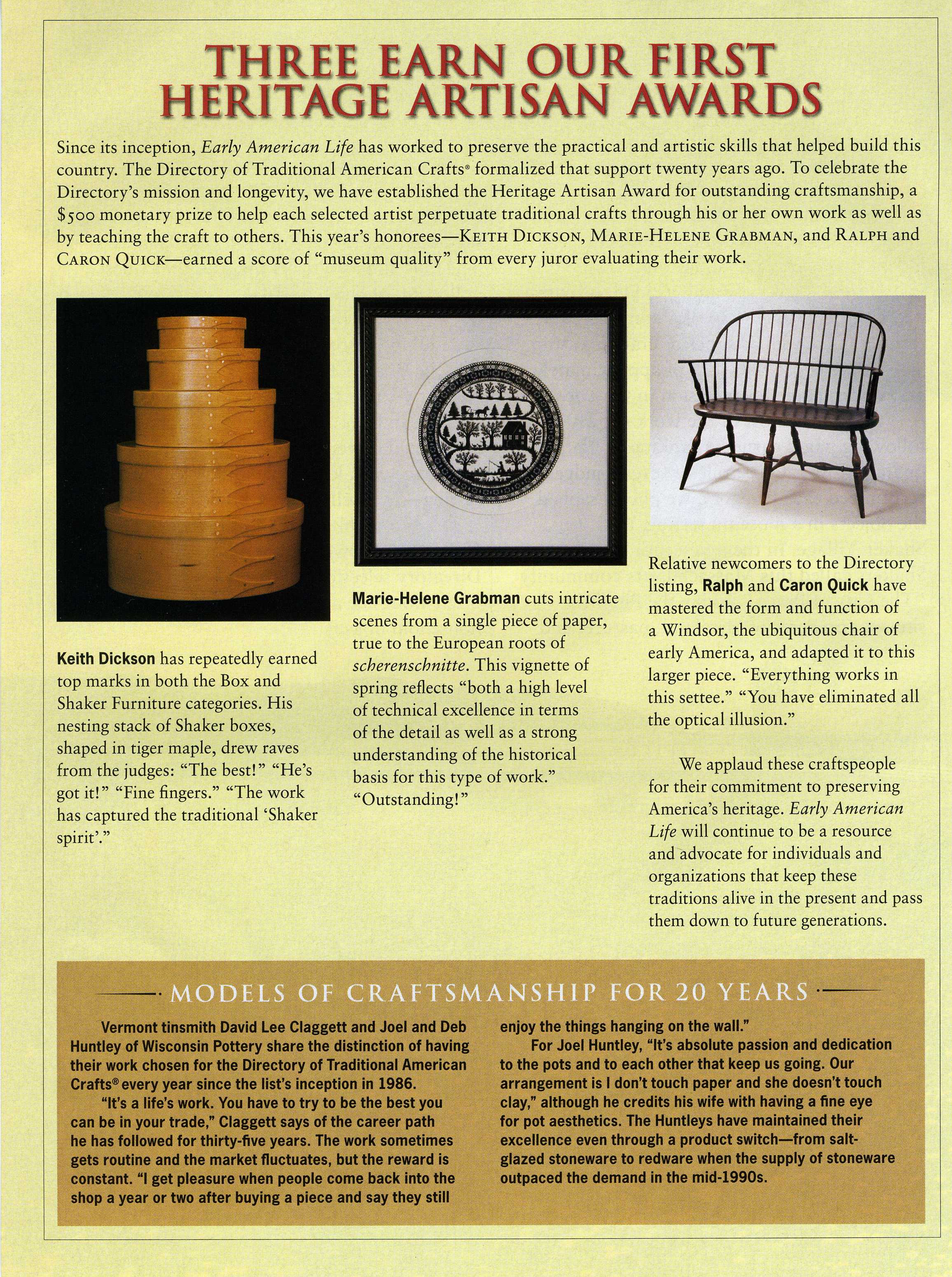 Her work has been awarded as an "Editor's Choice" selection in Better Homes and Gardens. Other awards: Best of Show, Art and Apples, Rochester, MI.; Best of Show, Art in the Park, Birmingham, MI; Award winner Boardwalk Art Show, VA Beach; Best of Show, Art in the Park, Blowing Rock, NC; Award of Excellence, Frederick Festival of the Arts; Craft Marketplace Best of Show-Academy Art Museum, Easton, MD; 2nd Place Award, Artsplosure, Raleigh, NC; Award of Merit, Mainsail Arts Festival, St. Petersburg, FL; 2nd Place, Shrimp Festival, Amelia Island, FL; Exhibitor Choice Award, Piccolo Spoleto, Charleston, SC; etc. She exhibits in annual gallery exhibitions and EXHIBITIONS
For more information, please email her at: scissorcutter@yahoo.com
How do you purchase a picture?
I do not have an order form included in this web site since some of the work in the Gallery pages is one of a kind and may have been already purchased. Please contact me to discuss availability. Purchases can be made by credit card, Pay Pal, or check, and I can also work out a "lay away" system at no additional charge. With the help of my digital camera, I can even email pictures of frames to show you various choices available!
Pictures are shipped by Priority Mail. The cost of shipping and insurance will vary with each picture, and have to be calculated individually. Payment can be made with personal checks or credit card or Pay Pal. Virginia residents need to add 5% sales tax.
Please email to discuss payment arrangements: scissorcutter@yahoo.com
These pictures are the registered, COPYRIGHTED designs of Marie-Helene L. Grabman. They are made available for viewing only. You may not reproduce, print, download or altar these images in any way. You may not distribute these images in any way for free or for profit. ©2000-2014