"Scherenschnitte"
The Scissor-Cutting Art of Marie-Helene L. Grabman
CUSTOM DESIGNS
HOME ARTIST EXHIBITIONS GALLERY 1 GALLERY 2 GALLERY 3 GALLERY 4
GALLERY 5 GALLERY 6 FAQ's LINKS
WEDDING / ANNIVERSARY / FIRST ANNIVERSARY (traditionally paper)
Original scissor-cuttings that are custom cut and personalized with calligraphy.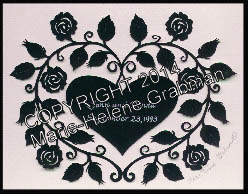 #1 "Heart with Roses" 9" x 12"
Up to 3 lines of calligraphy
Matted price - $85.00 Framed* price - $115.00
Shipping and Insurance - $12 matted; framed $20.00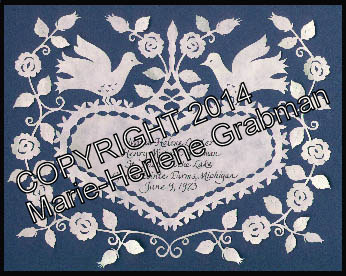 #2 "Birds, Heart and Roses" 12"x 16"
Up to 5 lines of calligraphy]
Matted price - $155.00; Framed* price $190.00
Shipping and Insurance - $12 matted; $20 framed
Either design can be cut from white paper OR black silhouette paper.
A white paper cutting is best matted on a dark color background. Popular choices are navy blue, evergreen, black wine, etc. I use acid free Canson Mi-Tientes Paper. If you have an art supply store near where you live, you could visit and see the selection of Canson papers and specify a particular color.
A black paper cutting is matted on a white back mat.
Top mats are usually white. A second 1/4" mat in a contrasting color under the top mat can be added for an additional charge.
*Frame choices are cherry (2 styles); all black, black w/antique gold inner lip, and gold. I'll be happy to email you a picture of the frame choices.
Silhouette Portraits
NEW! I will cut Silhouette Portraits from a photograph. Please email me for how to send me the photos.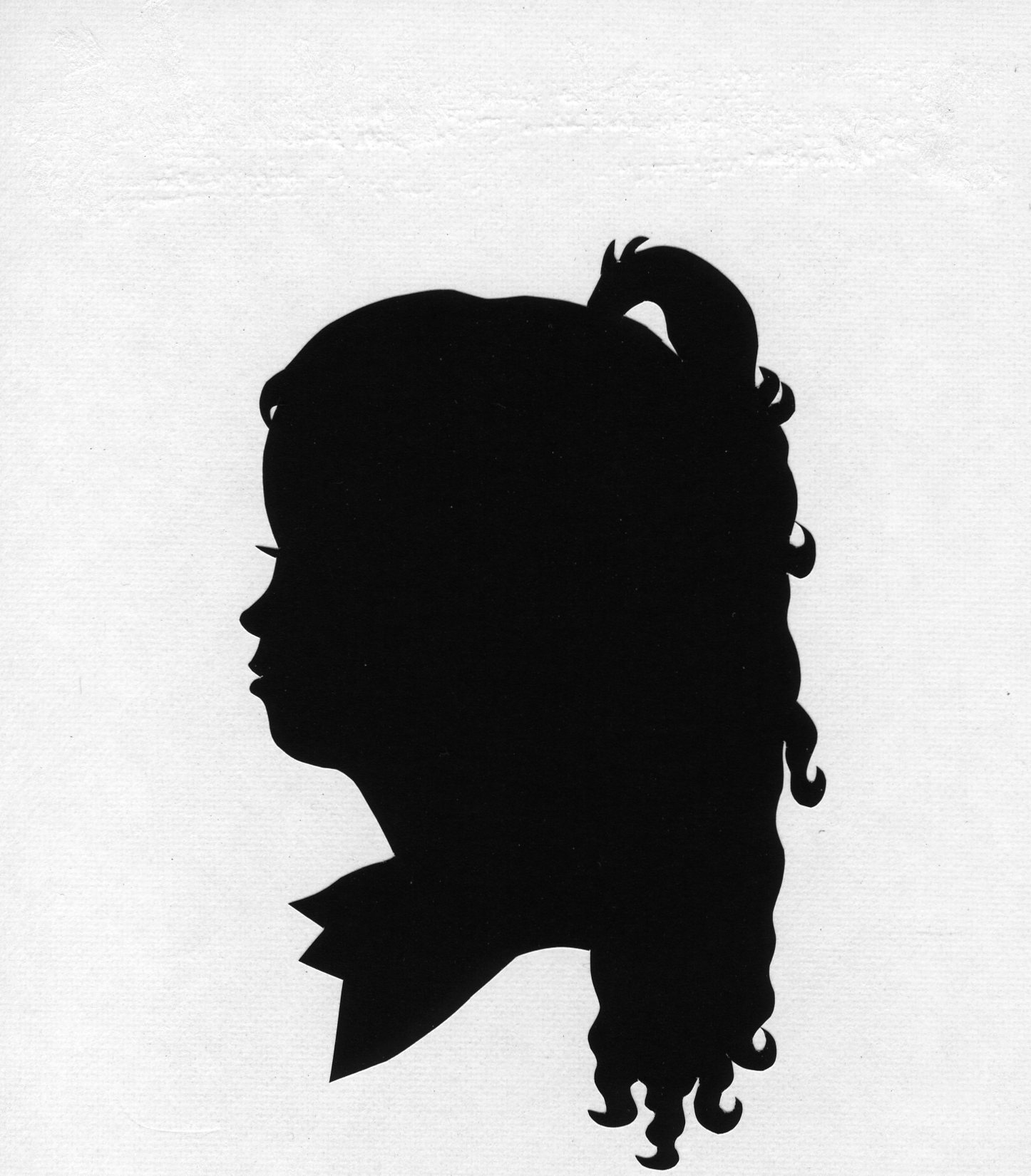 $35 for 2 copies mounted on 5"x 7" acid-free mat board.
Traditional Silhouette Frames now available!
I have just found beautiful imported OVAL all-wood 5"x 7" black frames with gold inner lip. They are $30 each.
Children Designs
Original, custom designed full figure silhouette cuttings of your family/children, holding their special toy or showing their hobby, using a picture or good description. Names of the person in calligraphy under the figure. Pets can be included!
These cuttings can be cut from white paper OR black silhouette paper.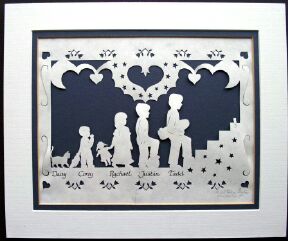 Matted price (2 figures children or pets) $115.00
Each additional figure +10.00
Framed* price (12" x 14") +35.00
(If a larger frame is needed, for a large grouping, price is slightly more.)
Questions? Please email me at scissorcutter@yahoo.com
These pictures are the registered, COPYRIGHTED designs of Marie-Helene L. Grabman. They are made available for viewing only. You may not reproduce, print, download or altar these images in any way. You may not distribute these images in any way for free or for profit. ©2000-2016