Home

The Children

History

Program

Staff

Employment

Volunteering
Posted January 22, 2002
Christmas cheer at the Home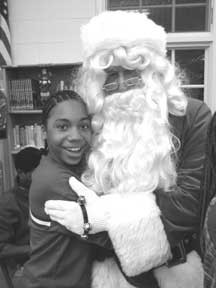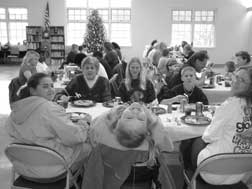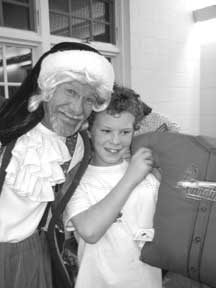 Christmas can be an especially challenging time for children who find themselves living away from home during the holidays. Knowing this, the staff and the community go the extra mile to make these children feel loved and wanted.

This year, a large number of children couldn't, for one reason or another, travel home to be with their parents or other relatives.
The season got under way in early December with the annual Naval Reserve Christmas party in Asheville. The Reserve throws a big party for the children every year complete with presents and food. The last party of the season was the annual Christmas party for children and staff at the Home. This was the second time that the new Community Room in the expanded gymnasium was put to use for this great event. The party brought the campus together to celebrate with food, the reading of the Christmas story and of course an appearance by Santa. This was also the fourth year that a certain, rather tall elf assisted Santa with entertainment.

In between these two parties, many individuals, churches, businesses and organizations made the season brighter with gifts and events. Riceville Presbyterian Church sent many of the children to an outing at Goodness Glazes Alive! where they made pottery gifts, and Oak Forest Presbyterian had the Home for church service followed by dinner. Southminster Presbyterian brought gifts and refreshments to the children. The staff of LaPaz Restaurant came to the campus to make ornaments with the kids and Trinity Presbyterian, Owen Manufacturing, Servco, and the Black Mountain Police Department brought gifts. Other contributors included the Smoky Mountain Toy Run, Steinmart, Warren Wilson College Women's Basketball, The Asheville Altitude, Asheville Smoke, Southeastern Sports Medicine and Academy of Asheville.

One very sweet gift came from a local 8 year old girl who decided to give her birthday presents to the children at the Home.
---
Colors and Clouds
By the Storm Chaser

A few anonymous campus observations...

Grooms are usually nervous but imagine if your more than twenty children are also to be present for the nuptials. Our heartiest congratulations to Recreation Coordinator Mike Small upon his marriage to Cora Guerin on December 8, 2001. One of the first "family" pictures taken after the service was Mike and Cora and their Home friends including "Miss Ann" who had introduced the couple.
* * * *
One of the ways we mark the passing of the seasons is by what campus black lab dog, Amos, has run off with in his mouth. The soccer and baseballs of spring and summer, are replaced with footballs in the fall. In winter, we watch him grab gloves and caps from residents. After the first big snowfall, he tried to steal an entire sled. "Thou shall not snatch" is completely ignored.
* * * *
If you think that Home children don't know how to harness the power of prayer, there would not have been three snow days in the first four school days following Christmas break. A few more youthful supplications were probably offered when Sunday worship was scheduled on campus due to bad weather and Earl Kreisa told inquiring kids that it would last "less than two hours."
* * * *
College Alumni News: Our congratulations to Queens College sophomore Jada Ware for her high grades for fall term. First year students Jessica Evans and Barbara Clayton said they held on with the help of the Black Mountain Presbyterian Circles that kept cards and other remembrances coming as they adjusted to their new college lives. Mars Hill scholar Tommy Dembinski reports that he is ending his perennial-student status before the Home's centennial in 2004. Good goal.
* * * *
Work continues on the new Study Center/Library, Board room, and bathrooms in the main Smith Building. As staff continue to wonder each day whether their offices will have luxuries like heat and electricity, the real Staff Trooper Award has to go to pregnant Social Worker Rena Meyers as she searches to find which bathroom on which floor is working at any given time. Good exercise.
* * * *
As we completed required end-of-the-year reports, we realized that a welcome pattern of longer staff tenure especially among house parents continues. Dedicated staff have helped fade the time when a new group of care givers had to be hired twice a year. This paradigm shift means instead of children always getting used to new staff, staff can prepare for new children. Good change.
* * * *
With mixed feelings we saw our census take a big drop at the end of the year as a number of our residents went to live with family members. Our hearts go with: siblings, Anna, Chris, David, and Bruce as they move to Ohio to live with grandparents; Lillian as she joins her younger siblings already living in New Jersey with an aunt and uncle; Robbie as he makes his home with his grandmother in North Carolina; and with Susan as she turns age 18 and joins her mother in New Hampshire after nine years of being apart. Treasure your families and your homes, and...

...watch for God's rainbow after the clouds.
---
From the President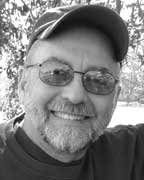 Christmas always demonstrates the miracle of the season. So many of you have remembered our children with gifts. We cannot thank you enough for your thoughtfulness. That generosity has also been reflected in your support of updating our campus for this new century. Over $3 million dollars has now arrived to meet the bills created by that building and renovation program. As we finish up the final phase of building, a library resource center and renovation of the Smith Building, we are setting out the next steps in the development of the Home.

The Home has entered into a two year plan that could lead to national accreditation. Not only would that give us national recognition, but discipline us to gather together all the policies and understandings that we have developed in the past years and organize them so that everyone can find them more easily. Board, staff and community members will participate in this process that in the end will make the Home an even better place for children.

We are coming up on a century of service to Western North Carolina on January 19, 2004. Developing a plan of honoring those hundred years is a challenge we look forward to meeting. We have a rich history and a bright future. As part of the new century, the Board is expected to launch a Foundation that will work to insure the ongoing future financial stability of the Home. It will have a Board of Trustees elected by the Board of Directors of the Home.

As we develop a new long range plan for the Home, we will continue to seek to find ways to serve children in need in North Carolina. North Carolina Children's Index 2000, North Carolina Child Advocacy Institute:
" A Profile of Leading Indicators of the Health and Well-Being of North Carolina's Children" reports that between 1997 and 1999, for children ages 0-17 suffering abuse and neglect: Reported cases up 33.5%, substantiated cases up 22.8%, children in protective foster care (such as the Home provides) is down 7.8%. Help us understand the meaning of these figures.

This spring, May 7, we will initiate an annual symposium on the needs of children. We hope that you will join many child care advocates in this informative and stimulating program. Speakers this year will be State Senator Stephen Metcalf, Dr. Olson Huff, and Dr. Myles Joyce. Mark your calendar now and plan to spend the day at the Home.
God bless,

Earl J. Kreisa, Jr.
---
Program Briefs

A resident's view

Hello, my name is Loretta.

I live in Mountain House and I'm 12 years old and a 7th grader at Owen Middle School and live with 7 other children. On weekends we go to the Asheville Mall, Walmart, to a movie, then out to eat. There are 3 different pods in our rooms so we have our own privacy and we can make our room look however we want. Even though we have chores around the house and in our own pods and rooms, this place really isn't that bad at all, but there is seriously no place like home.

Independent Living

Independent Living workshops offered last semester were interviewing skills, budgeting, career mapping, buying a car, car maintenance, mediation skills, visiting a correctional facility and talking with local artisans. In 2000 and 2001, the Home had an outside agency arrange these workshops. Since August 2001, the staff of PHFC have taken the responsibility of coordinating these classes for the older kids. Helping the children prepare for life after PHFC is an ongoing challenge for all the staff.
---

Alumni News

My name is Catherine Prather, and I lived at the Presbyterian Home for Children from 1966 to 1973. My older brother, Sandy, and I came to the children's home after our mother died. I must confess that those years without my parents were difficult ones.
However, as I look back on my life, I am able to see and appreciate how much the children's home has positively shaped my life and has enabled me, both as a child and now as an adult, to fulfill my lifelong dream of helping others. As a child PHFC gave me a place to call home. In addition, I was taught and I learned about the importance of having morals and values that give direction to life.
I have carried these ideals throughout my life.
I think in my heart I have always been a Social Worker, and I want to take this opportunity to thank the Board and staff of PHFC for giving me the tools, both emotionally and financially, to follow my heart.

Alumni Picnic July 13th
Tell your friends.
---
News Archives December 2000-April 2001
News Archives November 1999-November 2000

News Archives November 1998-November 1999