Indians and mountaineers played a vital role in the development of Yancey County. The area was a thoroughfare for the Cherokee Indian who roamed these rich hunting grounds. The path of the Scotch-Irish settlers seeking new country also led to these mountains and the fertile valleys of Yancey's Cane and South Toe rivers. Yancey County and Burnsville were both established in 1833. Yancey County was named for noted educator and orator Bartlett Yancey. The county's largest community is anchored by a splendid town square with a statue in honor of the town's namesake, Capt. Otway Burns, a privateer during the war of 1812 and also a member of the North Carolina General Assembly. The aftermath of the Civil War caused the division of Yancey County into the new counties Madison, Avery and Mitchell. Leaving Yancey County with 311 square miles.
This passage was quoted from The Insider's Guide to North Carolina's Mountains by Sara Pacher and Linda Davis.
Who was Bartlett Yancey ?
Bartlett Yancey, Jr. was born February 19, 1785, four months after his father's (Bartlett Yancey, Sr.) death. His family lived six miles south of the county seat of Yanceyville, N.C. He attended private school, then Hico Academy, studied under Hugh Shaw until he reached the age of fifteen. He taught a year then resumed school as assistant teacher. The trustees elected him principal of the Academy where he taught two more years. He then went to the University, 1804 -18O6, against his mother's wishes. He studied law In Hillsborough under Judge Archibald De Bow Murphy. He began practicing law in 1807, was elected to Legislature, nominated to Congress, 1814 and 1817. He served six years in Congress. He was appointed Minister to Peru in 1826 by President John Adams but declined the appointment. He returned to Legislature, was a member of the House of Commons, a member of the Senate. 1817 - 1827.

He was Speaker of the Senate seven terms. He was appointed Chief Justice but declined. He died at his home, Oakwood, August 1828 and was buried in the family cemetery near Yanceyville. Bartlett
Yancey, Jr. lived at Oakwood on the Dan River, near Blanch, N.C. See The County of Caswell in 1810 by Bartlett Yancey. This river home did not suit him because of the damp-ness, chills and ague so he bought a large acreage near Yanceyville and built "Summer Hill" which still stands. The Home is located at 699 US Highway 158, several miles west of Yanceyville, NC. It has been refurbished and furnished in 1800 pieces.

Bartlett Yancey, Jr. presided for the last time In the Senate at the session of 1827. He was elected the following year but died before the meeting of the Assembly. Very few men in the State's annals have exercised a larger influence in public affairs. His abilities and personal magnetism were such as to give him a great ascendancy over those with whom he came in contact. He was the head and front of those who were laboring for the opening of the resources of the State by railways. He largely aided the movement resulting in establishing the Supreme Court; the Treasurer's and Comptroller's departments were likewise mainly at his suggestion.

Bartlett Yancey, Jr. was one of the greatest men North Carolina ever produced. His massive frame was a fit tenement of the large and luminous intelligence which animated it. In forensic oratory he was the peer of Mr. Gaston, while in political tact and address he was greatly his superior. When Speaker of the U. S. House, Mr. Clay, often when in Committee of the Whole, called Mr. Yancey to the chair, and even under the trying emergency of such a comparison, the North Carolinian suffered no derogation. His consummate abilities were adorned and enhanced by a bland elegance of manner that was matchless in his day.
Information obtained from RootsWeb.com and The Bartlett Yancey Home.
More information on the Yancey family surname is available at The Yancey Family
Surname Resource Center.
Who was Capt. Otway Burns ?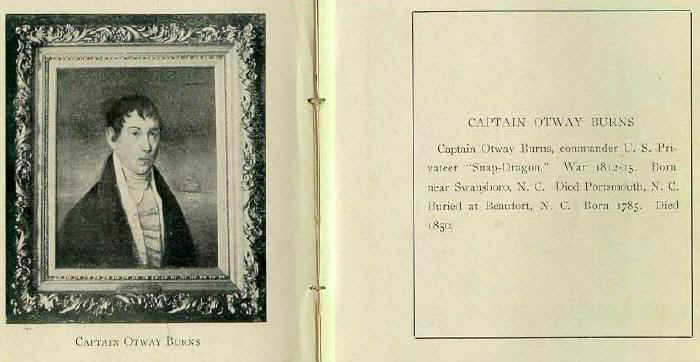 Historians say he was one of North Carolina's greatest naval heroes in the War of 1812. He received Letters of Marque and Reprisal from the U.S., which had only a small navy. He sailed from Nova Scotia to South America plundering British ships. It is said he captured cargo worth more than $2,000,000 on one trip alone. His tomb is surmounted by a cannon taken from his privateer, "Snap Dragon" .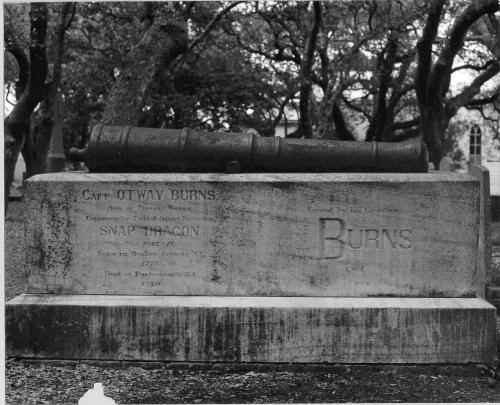 The privateer schooner, "Snap Dragon," served in the War of 1812. 85 ft. on deck, with 6 - 8 guns, this vessel was built in Maryland and based in New Bern, North Carolina. Captain Otway Burns was commander for several successful voyages beginning in 1808.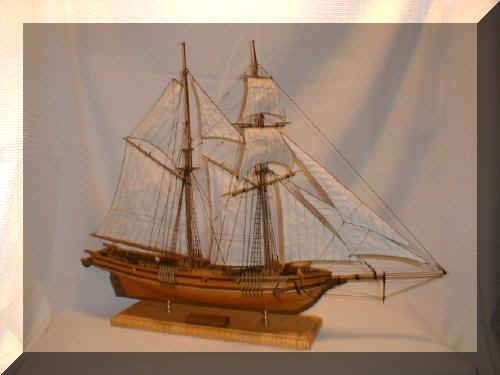 Original model of Snap Dragon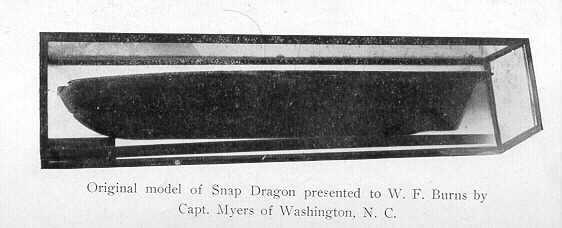 From the La Gazette des Pasteur Issue 2 October 2001
First General Meeting of the Association of Pasteur families
The first Ordinary General Meeting of the Association of Pasteur families took place in Geneva on the 2nd of June 2001. Edward Pasteur was the son of William. From p. 251, v. I, Our Living and Our Dead: "Dr. Edward Pasteur had, in a measure, retired from the practice in 1822, after a long and successful professional career. He had wealth and great social influence." From the Raleigh Register for June 27, 1823 (on micro-film at N.C. Room, UNC Library): "Died a few days since, in New Bern, of an inflammation of the bladder, Col. Edward Pasteur." P. 112, 1964 printing of J.H. Wheeler's "Historical Sketches of N .C.": "Dr. Edward Pasteur was the friend of Gov. Spaight." He was Gov. Spaight's second in the Governor's duel with John Stanly on Sept. 5, 1802, in New Bern. The Governor was killed. From the "N.C. Gazette", July 4, 1795: "Edward Pasteur has just received from Norfolk and New York an assortment of medicines." A long list follows and "will be sold on the most reasonable terms." The commission, signed by Pres. Thomas Jefferson, appointing Edward Pasteur Colonel 3rd Regt. of Infantry, March 3, 1809, is in SHC, WSH Collection. From "Records of Craven County", vol. I, by Elizabeth Moore: "North Carolina's part in the War of 1812 is associated with Captain Otway Burns." "Dr. Edward Pasteur of New Bern was the chief owner of the six-gun schooner, the Snap Dragon, commanded by Captain Otway Burns.
Captain Otway Burns was born at Queen's Creek, near Swansboro, N. C., in 1775. After the war he engaged in shipbuilding at Beaufort, N. C., and spent 13 years in the General Assembly of North Carolina. In 1835 President Jackson appointed him keeper of the Brant Island Shoal Light, a position he held until his death 25 August 1850.
US Naval Destroyers named for naval hero Capt. Otway Burns.
Information was obtained from- http://www.hazegray.org/danfs/destroy/ - The Dictionary of American Naval Fighting Ships.
The first Burns (DD-171) was launched 4 July 1918 by Union Iron Works, San Francisco, Calif.; sponsored by Miss Alice H. Palmer, and commissioned 7 August 1919, Commander W. H. Lee in command.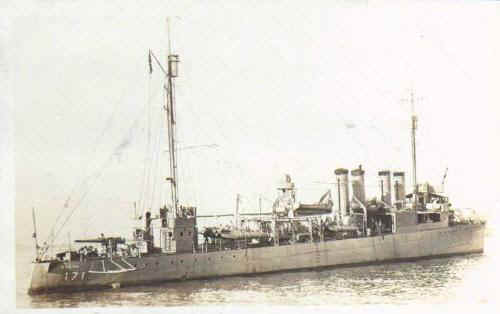 Burns was attached to Destroyer Force, Pacific, until March 1920 when she was ordered to special duty as a tender for NC Seaplane Division. On 15 March 1921 she was reclassified DM-11 and on 5 May she was assigned to the Mine Force, Pacific. She was at Mare Island Navy Yard 11 July undergoing conversion and overhaul when her home yard was changed and she departed for the Naval Station, Pearl Harbor, where she completed the yard period. Thereafter, attached to Mine Squadron 2 Pacific Fleet, she served throughout her active service in the vicinity of the Hawaiian Islands except for periodic concentrations of the Fleet in other areas for maneuvers and Fleet problems.
In 1925 she joined the Fleet for a tour of Australia and New Zealand. In the summers of 1926, 1927, and 1928 she conducted training cruises for Naval Reservists. In 1927 Burns returned to San Diego with her squadron for inspection, training, and recreation. Returning to Pearl Harbor, she participated in mining and gunnery practice, and acted as high-speed target for submarines in Hawaiian waters until November 1929. Arriving at San Diego 26 November, Burns was decommissioned 2 June 1930. On 11 June she was towed to Mare Island Navy Yard where she was used as a barracks-ship. She was later scrapped and her material sold 22 April 1932.
The second Burns (DD-588) was launched 8 August 1942 by Charleston Navy Yard; sponsored by Mrs. Harry L. Smith, great-granddaughter of Captain Burns; and commissioned 3 April 1943, Commander D. T. Eller in command.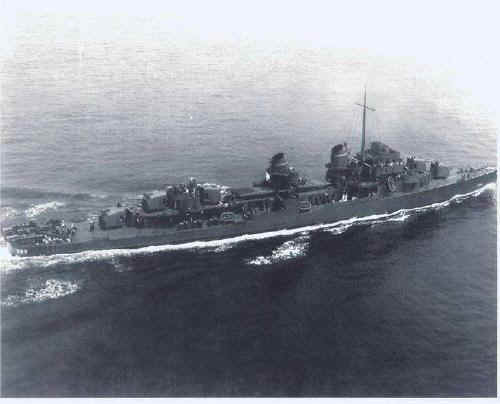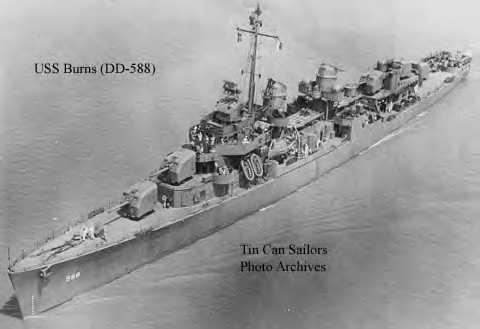 Burns arrived at Pearl Harbor 17 September 1943 and after a few weeks of training, embarked upon an outstanding World War II career. Between October 1943 and July 1945, with the exception of a stateside yard period (February-April 1945), Burns participated in the following operations, acting as anti-submarine escort, picket ship, fighter director ship, and aircraft rescue vessel: Wake Island raid (5-6 October 1943), Gilbert Islands operation (20 November 8 December); occupation of Kwajalein and Majuro Atolls (29 January-8 February 1944), Asiatic-Pacific raids on Truk (16 17 February) Palau-Yap-Ulithi-Woleai (30 March - 1 April) and Truk-Satawan-Ponape (29 April - 1 May); Hollandia operation (21 - 24 April); Marianas operation (15 June - 6 August) which included the 1st, 2nd, 3rd, and 4th Bonins raids, the Battle of the Philippine Sea, the capture and occupation of Saipan and Guam, and the Palau-Yap-Ulithi raid; western Caroline Islands operation which included the capture of the southern Palau Islands and the assaults on the Philippine Islands (6 September - 14 October); Leyte operations including the 3d Fleet supporting operations against Okinawa, Luzon, and Formosa (10 October - 14 November); Lingayen Gulf landings (4 - 18 January 1945); and the Borneo operations, including the Brunei Bay operation and the Balikpapan operation (7 June, 7 July).
On 30 January 1944, after picking up three downed American aviators, Burns was off Ujae Atoll in route to rejoin her task group when she came upon a small Japanese convoy. During the ensuing 34-minute battle she succeeded in sinking all four Japanese vessels, a small cargo ship, a medium tanker, and two small, either cargo or escort, ships.
Shortly thereafter Burns, as a unit of TG 50.9, took part in a surface action off Truk, Caroline Islands (17 February 1944). She assisted in sinking the Japanese light cruiser Katori in 07°45' N., 151°20' E., and a trawler before being ordered to track down and dispose of the Japanese Submarine Chaser No. 24, which was accomplished at 1655 in 07°24' N., 150°30' E. Six Japanese survivors were rescued.
After the cessation of hostilities Burns remained in the Far East on occupation duty until December 1945. During this period she operated in the Yellow Sea supporting the occupation of Korea and China. She departed the Western Pacific 29 December 1945 and arrived at San Francisco 8 January 1946. She then reported to the 19th Fleet for inactivation and was placed out of commission in reserve 25 June 1946 at San Diego.
Burns received 11 battle stars for her World War II service.
Some years ago Romie Burns, great grandson of Otway Burns, contacted the US Navy and asked that they lend the USS Burns Destroyer Bell to the town of Burnsville to be on display.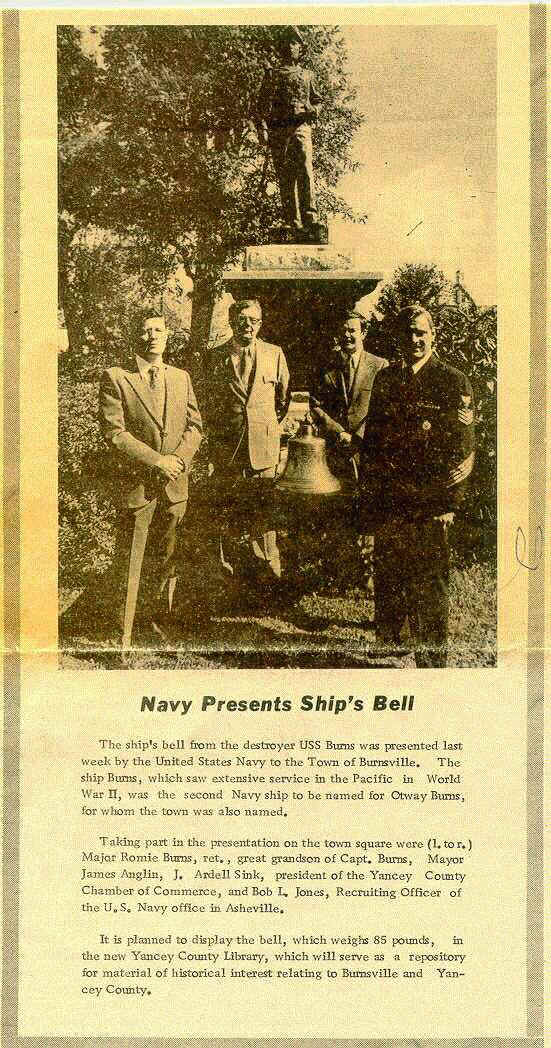 Unveiling Of Captain Otway Burns Monument in 1909 in Burnsville.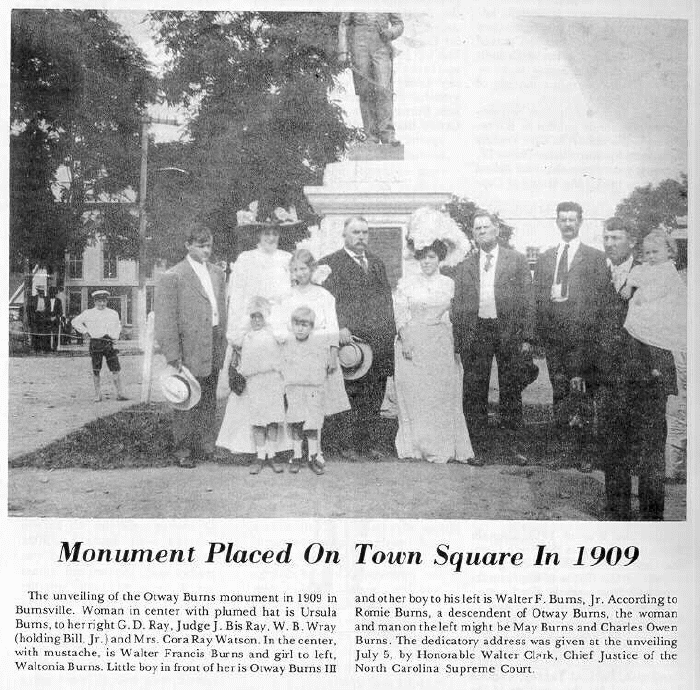 A Brief Biographical Sketch of the Life and Exploits
of
Captain Otway Burns, Jr.
Captain Otway Burns was born on the west side of the mouth of Queen's Creek in 1775. The son of Otway, Sr., and Lisanah Burns, he evidently took to the sea at an early age and soon earned the reputation of a most skillful navigator. Like his father and his grandfather before him, Otway, Jr., was deeply involved in maritime activity at Swansboro. In 1809 Burns married Joanna Grant, daughter of Colonel Reuben Grant, a Swansboro merchant. Owen Burns, the only child of Capt. Otway Burns, was born to this union in 1810, the same year that Burns bought lot number 6 in Swansboro.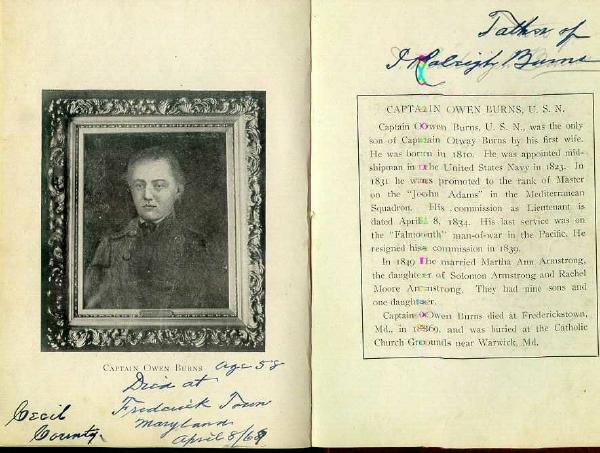 At the time that Burns bought the lot, it contained a dwelling house on the portion lying between Front and Water streets, and Capt. Burns and his young wife may have resided for a time on that lot. The lower portion of the lot, lying between Front Street and the rivershore, was subsequently used by Burns for a shipyard. It was at this shipyard in 1818 that Burns built the PROMETHEUS, the first steamboat actually constructed in North Carolina. His wife, Joanna, however, had died in 1814, and in 1819 Burns sold his Swansboro lot to William Pugh Ferrand. Thereafter, Burns remained exclusively associated with Carteret County.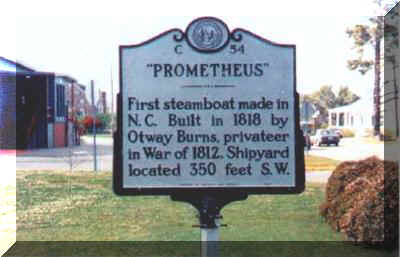 It was his role in the War of 1812 that won Burns his fame and made him Onslow County's most famous native son and the most important figure ever associated with the maritime history of Swansboro. Prior to the War of 1812, Burns was a sailing master operating out of Swansboro, Beaufort, and New Bern, and plying the coastwise trade with such northern ports as Baltimore, Philadelphia, New York, Boston, and Portland. When the War of 1812 broke out, Burns came to the aid of his country by operating a privateer vessel to prey on British ships and commerce. In partnership with Col. Edward Pasteur and the other owners of the SNAP DRAGON, most of whom were of New Bern, Burns carried the privateer schooner on three of the most successful voyages ever made by an American privateer. His extraordinary bravery, ingenuity, skill, and heroic exploits made Captain Otway Burns a legend in his own time and North Carolina's most famous naval hero of the War of 1812. Throughout the war the United States had only a token and woefully ineffective navy. The country was forced to rely on the help of private-armed vessels like the SNAP DRAGON, whose entrance into the war was applauded as a great act of patriotism. When our "Second War of Independence" was over, Burns had captured not only a staggering number of enemy vessels and valuable cargoes but had captured the esteem and admiration of his fellow countrymen,
Following the war, the enterprising Captain Burns returned to his old trade of shipbuilding and eventually at Beaufort tried his hand at storekeeping, salt making, brick making, and investing in the Clubfoot and Harlowe Creek Canal Company. A Democrat in politics, Burns represented Carteret County in the General Assembly from 1821 through 1835. In the latter year, however, Burns's sense of fairness cost him his political future. The eastern counties controlled the legislature because the western counties were not granted fair representation in the General Assembly. When the Assembly in 1835 voted on the matter of calling a special state constitutional convention to consider, among other things, increasing the representation of the western counties, Burns maintained that the westerners should be entitled to fair representation and therefore voted in favor of calling the special convention. His eastern constituents never forgave Burns for casting the deciding vote in favor of the special convention, with the result that Burns was never re-elected to the Assembly. But one of the western counties-Yancey County-named its county seat Burnsville in honor of Captain Burns and in gratitude for his fairness as a statesman.
In 1836 President Andrew Jackson, himself a hero of the War of 1B12, appointed Burns keeper of the Brant Shoals Light-House at Portsmouth. Burns died at Portsmouth on October 25, 1850. He is buried in the Old Burying Ground in Beaufort.
Today Swansboro's most famous son has two North Carolina towns named in his honor-Burnsville in Yancey County, and Otway in Carteret County. And as of May 6, 1983, North Carolina has two statues of Captain Otway Burns-one at Burnsville atop the mountains, and one at Swansboro in sight of the sea.
-Tucker R. Littleton