HOME
Hikes Index
Next
Waterfall
Hike
Previous Waterfall
Hike
SKINNY DIP FALLS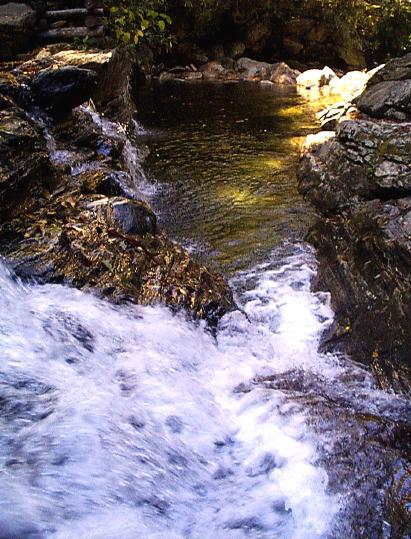 This is looking down from the middle part of the falls as it splashes into the pool that probably gives skinny-dip its name.
PERSPECTIVE
Skinny Dip Falls isn't even mentioned in Kevin Adams' North Carolina Waterfalls. It's more a local cooling-off spot, and you'll find a few locals there with the kids and dogs on a sulty summer's outing. Any other time, except fall color, it's not that heavily travelled. It's short, well-maintained, but downhill to get there (meaning uphill on the way back), but not that far. It's a pleasant offering if the Graveyard Fields Overlook down the road has no parking.
LOCATION

The trailhead parking is on the parkway, at the Looking Glass Rock Overlook, near milepost 417. The trail begins on the other side of the overlook, on the Northeast end. Follow the trail some 400 feet to where the trail intersects with the Mountain-to-the-Sea trail. There should be a marker there for the Skinny Dip trail, but some vandalism has occurred here, so, if it's not there, just continue straight and down.

DESCRIPTION

The path will be working its way down the mountain following a white dot blaze, and right away you can hear the water rushing from the valley below. You'll be travelling thru rich mountain Mixed-oak woods with northern red oak, locust and red maple trees. As you get farther down, the galax becomes interspersed with a variety of ferns until the galax mostly peters out. The trail is well maintained and has a lot of rock and log enhancements making it easy to follow despite it being a very rocky area. You'll duck in and out of a few hollows where you'll lose the sound of the rushing waters below, but will return again as the ferns give way to plants like umbrella leaf and white snakeroot.

Once you reach the wooden steps and bridge you're at the best site for looking at the falls. Don't be too dissapointed, notice the large pools for getting cool. The bridge crosses the deepest of these.
VIEW
Though a falls doesn't wow you with it's volume or distance or some other larger feature, each waterfall has its character. And i'm not saying that just to be able to "say something nice" about Skinny Dip Falls. If that were true, i'd probably go on about imagining hordes of naked frolickers laughing and splashing each other after tossing their clothes on warm boulders (OK. I'm back).

One of the nice features of this fall is the secondary falls all around it. Imagine yourself about an inch tall and gawk and listen to one of these pictured on the right. It's magnificent! It's thunder booms your belly and it splashes and divides and zig-zags everywhichway. It also falls directly into suddenly very deep water, probably called "Bottomless Falls." But go ahead and name it something else, because nobody else has.

There's lots of 'imagination sites' above and below the main falls where you can sit by yourself and meditate or break out the picnic basket with the family or a friend. Each site drowns out any other groups conversation and makes your spot great.