Graham County Emergency Management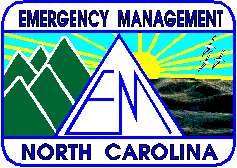 Graham County Emergency Management is located at 49 South Main Street in Robbinsville next to the Sheriff's office. Office hours are from 8:30 am to 5:00 pm, Monday through Friday. In emergency situations it is manned around the clock. Information is available concerning Tornado Awareness, Fire Safety, Winter Storms, Winterization, Emergency Preparedness Checklist, Family Disaster Supplies Kit, Family Disaster Plan.

The Emergency Management Coordinator is Terry Slaughter. Terry has been the coordinator since December of 1986. The program assistant is Kim Smith; Kim has been the program assistant since January of 2002.
This agency is responsible for planning for disasters. Disasters can be any emergency that taxes our local resources. Planning consists of identifying potential manmade and natural disasters that could affect Graham County in the future, and then working with all the different agencies that might be involved in these potential disasters and identifying their roles and ways of dealing with the problems. Also a part of Emergency Management is Operations. During a disaster Emergency Management is a lead agency in coordinating resources in our county and resources that other state and local agencies might be able to supply Graham County. Emergency Management is also responsible for planning for accidents involving hazard materials and mitigating the effects of a release or spill. Search is another responsibility of Emergency Management.

Some of the disasters that have affected Graham County in the past ten years include: the blizzard of 1993, the floods in the spring of 1994 and the floods of April 2003. These are a few of emergencies that Graham County has faced in the past few years. During these disasters Graham County came together to take care of each other. There were many hours of volunteer service provided by the Volunteer Fire Departments and Rescue Squads in Graham County and many individuals who volunteered their time and money. Graham County survived these disasters and became stronger for it.


Related Links
North Carolina Emergency Management Association
Emergency Management

Emergency Medical Service

Fire Department

Rescue Squad

911 Communications

Special Events

Photo Album

Home